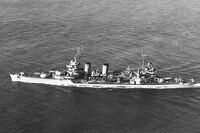 The New Orleans-class heavy cruisers were a class of seven heavy cruisers built for the United States Navy (and later American People's Navy) in the 1930s. Originally called the Astoria-class cruiser, the class was renamed after Astoria was sunk and the surviving ships of the class underwent substantial reconstruction.
These ships participated in the heaviest surface battles of the Pacific War. Astoria, Quincy, and Vincennes were all sunk in the Battle of Savo Island, and three others were heavily damaged in subsequent battles in the Guadalcanal campaign. Collectively, ships of the class earned 64 battle stars.
The four surviving ships were laid up immediately after the end of the war, and sold for scrap in 1959.
Specifications
Type: Heavy Cruiser
Service Period: 1934-1947
Characteristics:

Length: 588 feet 2 inches (179.27 meters)
Beam: 61 feet 9 inches 18.82 meters)
Draft: 19 feet 5 inches (5.92 meters)
Displacement: 9,950 tons (Standard); 13,200 tons (Full Load)

Crew: 807
Propulsion: 8 × boilers, 4 × geared turbines, 4 × screws, 107,000 hp (79,800 kW)
Range: 14,000 nautical miles (25,928 kilometers) at 10 knots (18.52 km/h)
Speed: 33 knots (61.12 km/h)
Armament:

9 x 8"/55-caliber Mk.14/15 naval guns
8 x 5"/25-caliber Mk.10/11/13/17 dual purpose guns - replaced by 5"/38-caliber Mk.12 DP guns
16 x Bofors 40mm anti-aircraft guns (4x4)
20 x Oerlikon 20mm anti-aircraft cannons (10x2)
8 x .50-caliber machine guns

Armour:

Belt: 5 inches (127 mm)
Deck: 2.5 inches (63.5 mm)
Bulkheads: 3.5 inches (88.9 mm)
Turrets: 8 inches (203.2 mm)
Barbettes: 6.5 inches (165.1 mm)
Magazines: 4 inches (101.6 mm)
Unit Run
New Orleans-subclass
USS/APNS New Orleans (CA-32)
USS/APNS Astoria (CA-34)
USS/APNS Minneapolis (CA-36)
Tuscaloosa-subclass
USS/APNS Tuscaloosa (CA-37)
USS/APNS San Francisco (CA-38)
Quincy-subclass
USS/APNS Quincy (CA-39)
USS/APNS Vincennes (CA-44)