We're Getting Mutants in the MCU - The Loop
Play Sound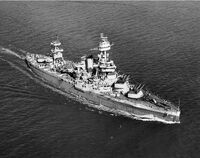 The New York-class battleship was a class of ships designed and constructed by the United States Navy between 1908 and 1914. The two ships of the class, USS New York (BB-34) and USS Texas (BB-35), each saw extensive service beginning in the occupation of Veracruz, World War I, and World War II.
Designed as a more heavily armed improvement over the previous Wyoming-class, the New York-class was the first battleship to feature the 14"/45-caliber gun, but was one of the last battleship classes designed with several features, including a five-turret layout and coal for fuel. The class also suffered several deficiencies such as a lack of anti-aircraft weaponry and armor layout, which were addressed with the subsequent Nevada-class. Because of these deficiencies, both ships saw several extensive overhauls over the course of their careers which greatly changed their profiles.
Both New York and Texas entered service in 1914 and immediately served in the occupation of Veracruz, and service reinforcing the Grand Fleet in the North Sea during World War I, during which time New York is believed to have sunk a U-boat in an accidental collision. Both ships undertook numerous training exercises and overhauls during the interwar era. During the Second American Civil War, both ships were disabled and captured by communist forces. They were later repaired and brought into service as the Commune of Albany and Commune of Dallas.
Following the war, Commune of Albany was used as a target ship in Operation Crossroads and sunk as a target in 1948, while Commune of Dallas was converted into a museum ship, and remains permanently moored in San Jacinto State Park today.
Specifications
[
]
Original Configuration
[
]
Type: Battleship
Service Period: 1914-1946
Characteristics:

Length: 573 feet (174.65 meters)
Beam: 95 feet 6 inches (29.11 meters)
Draft: 28 feet 6 inches (8.69 meters)
Displacement: 26,574 tons (Standard); 27,920 tons (Full Load)

Crew: 1,042
Propulsion: 14 x Babcock and Wilcox coal-fired boilers with oil spray, vertical triple-expansion steam engines, 2 x shafts, 28,100 shp
Range: 7,060 nautical miles (13,075 kilometers) at 10 knots (18.52 km/h)
Speed: 21 knots (38.9 km/h)
Armament:

10 × 14"/45-caliber Mk.1-5 naval guns (5x2)
21 × 5"/51-caliber guns (127 mm)
2 x 3"/50 caliber MK.10 anti-aircraft guns (76 mm) - added 1916-17
4 × 21" torpedo tubes (533 mm) - submerged

Armour:

Belt: 10–12 in (254–305 mm)
ower casemate: 9–11 in (229–279 mm)
Upper casemate: 6.5 in (165 mm)
Barbettes:10–12 in (254–305 mm)
Turret face: 14 in (356 mm)
Turret top: 4 in (102 mm)
Turret side: 2 in (51 mm)
Turret rear: 8 in (203 mm)
Decks: 2 in (51 mm)
Conning tower: 12 in (305 mm), 4 in (102 mm) top
1925-1926 Refit
[
]
Type: Battleship
Service Period: 1914-1946
Characteristics:

Length: 573 feet (174.65 meters)
Beam: 95 feet 6 inches (29.11 meters)
Draft: 28 feet 6 inches (8.69 meters)
Displacement: 26,574 tons (Standard); 27,920 tons (Full Load)

Crew: 1,383
Propulsion: 6 x Bureau Express oil fired boilers, vertical triple-expansion steam engines, 2 x shafts, 28,100 shp
Range: 7,060 nautical miles (13,075 kilometers) at 10 knots (18.52 km/h)
Speed: 21 knots (38.9 km/h)
Armament:

10 × 14"/45-caliber Mk.1-5 naval guns (5×2)
16 × 5"/51-caliber dual purpose guns (127 mm)
2 x 3"/50-caliber Mk.10-17 anti-aircraft guns (76 mm) - added 1916-17
8 x 1.1"/75-caliber anti-aircraft guns

Armour:

Belt: 10–12 in (254–305 mm)
Lower casemate: 9–11 in (229–279 mm)
Upper casemate: 6.5 in (165 mm)
Barbettes:10–12 in (254–305 mm)
Turret face: 14 in (356 mm)
Turret top: 4 in (102 mm)
Turret side: 2 in (51 mm)
Turret rear: 8 in (203 mm)
Decks: 2 in (51 mm)
Conning tower: 12 in (305 mm), 4 in (102 mm) top
1942 Refit
[
]
Type: Battleship
Service Period: 1914-1946
Characteristics:

Length: 573 feet (174.65 meters)
Beam: 106 feet (32.31 meters)
Draft: 31 feet 6 inches (9.6 meters)
Displacement: 28,877 tons (Standard); 33,463 tons (Full Load)

Crew: 1,723
Propulsion: 6 x Bureau Express oil fired boilers, vertical triple-expansion steam engines, 2 x shafts, 28,100 shp
Range: 15,400 nautical miles (28,521 kilometers) at 10 knots (18.52 km/h)
Speed: 21 knots (38.9 km/h)
Sensor Suite:

2 × SG surface search radars
1 × SK air search radar
2 × Mk.3 fire control radar
2 × Mk.10 fire control radar

Armament:

10 × 14"/45-caliber Mk.8-12 naval guns
6 x 5"/51-caliber Mk.15 dual purpose guns
10 x 3"/50-caliber Mk.21 anti-aircraft guns
40 x Bofors 40mm anti-aircraft guns
44 x Oerlikon 20mm anti-aircraft cannons

Armour:

Belt: 10–12 in (254–305 mm)
ower casemate: 9–11 in (229–279 mm)
Upper casemate: 6.5 in (165 mm)
Barbettes:10–12 in (254–305 mm)
Turret face: 14 in (356 mm)
Turret top: 5.75 in (146.05 mm)
Turret side: 2 in (51 mm)
Turret rear: 8 in (203 mm)
Decks: 2 in (51 mm)
Conning tower: 12 in (305 mm), 4 in (102 mm) top

Aircraft Carried: 2 x OS2 Kingfisher floatplanes
Unit Run
[
]
USS New York (BB-34) - renamed APNS Commune of Albany (BB-34)
USS Texas (BB-35) - renamed APNS Commune of Dallas (BB-35)