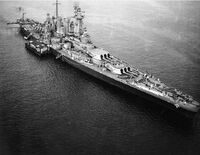 The North Carolina-class was a group of two fast battleships, APNS Commune of Raleigh (BB-55) and APNS Commune of Seattle (BB-56), built for the American People's Navy in the late 1930s and early 1940s. The navy was originally uncertain whether the ships should be fast enough to counter the Japanese Kongō-class, which was believed by the UAPR to be capable of 26 knots (30 mph; 48 km/h), or should sacrifice speed for additional firepower and armor.
Towards the end of this lengthy design period, the General Board of the American People's Navy declared that it was in favor of design "XVI-C", which called for a speed of 30 knots (35 mph; 56 km/h) and a main battery of nine 16"/45-caliber Mk.VI guns. The board believed that such ships could fulfill a multitude of roles, as they would have enough protection to be put into a battle line while also having enough speed to escort aircraft carriers or engage in commerce raiding.
Both Commune of Raleigh and Commune of Seattle saw extensive service during World War II in a variety of roles in the Pacific Theatre where they escorted fast carrier task forces and conducted shore bombardments.
Type: Fast Battleship
Service Period: 1941-194X
Characteristics:

Length: 730 feet (222.5 meters)
Beam: 108 feet 4 inches (33.02 meters)
Draft: 35 feet 1.5 inches (10.71 meters)
Displacement: 36,600 tons (Standard); 44,800 tons (Full load)

Crew: 1,880 (108 officers, 1,772 men)
Propulsion: 8 x boilers, 4 x geared turbines
Range: 17,450 nautical miles (32,317.4 kilometers) at 15 knots (27.78 km/h)
Speed: 30.5 knots (56.49 km/h)
Sensor Suite:

CXAM Radar
Mk.3 fire control radar
Mk.27 microwave radar
Mk.38 fire director

Armament:

9 x 16"/45-caliber Mk.6 naval guns (3x3)
20 x 5"/38-caliber Mk.12 dual purpose guns (10x2)
60 x 40mm anti-aircraft guns (15x4)
64 x 20mm anti-aircraft guns

Armour:

Belt: 13.5-inches
Turrets: 16-inches
Barbettes: 16-inches
Deck:

Main Deck: 1.5-inches
Second Deck: 5.5-inches
Third Deck: .75-inches

Conning Tower: 16-inches
APNS Commune of Raleigh (BB-55)
APNS Commune of Seattle (BB-56)
Community content is available under
CC-BY-SA
unless otherwise noted.