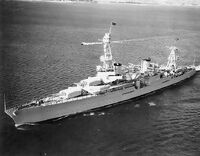 The Northampton-class heavy cruisers were a group of six heavy cruisers built for the U.S. Navy, and commissioned between 1928 and 1931. The Northamptons saw much action in World War II. One notable Northampton-class cruiser was the USS Houston (CA-30) which earned the nickname "The Galloping Ghost of the Florida Coast" during the Second American Civil War.
Type: Heavy Cruiser
Service Period: 1928-early 1950s
Characteristics

Length: 600 feet 3 inches (182.96 meters)
Beam: 66 feet 1 inch (20.14 meters)
Draft: 16 feet 4 inches (4.98 meters)
Displacement: 9,200 tons (Standard): 12,081 tons (Full Load)

Crew: 1,100 (105 officers and 995 enlisted)
Propulsion: 4-shaft Parsons turbines, 8 White-Forster boilers, 4 screws, 107,000 hp (80 MW)
Range: 13,000 nautical miles (24,076 km) at 15 knots (27.78 km/h)
Speed: 32.7 knots (60.56 km/h)
Sensor Suite

Mk.37 Gun Fire Control System
RCA CXAM Radar
Tachyometric, RDF-based, Air-Defense and Identification System (TRADIS)

Armament

9 x 8"/55-caliber Mk.9/12 naval guns
8 x 5"/25-caliber Mk.10/11 naval guns - replaced by 5"/38-caliber Mk.12 DP guns
6 x 21" torpedo tubes
24 x Bofors 40mm/60-caliber anti-aircraft guns
28 x Oerlikon 20mm/70-caliber anti-aircraft guns

Armour:

Belt: 3-inches (76.2 mm)
Deck: 2-inches (50.8 mm)
Guns:

Turret Face: 2.5-inches (63.5 mm)
Turret Roof: 2-inches (50.8 mm)

Barbettes: 1.5-inches (38.1 mm)

Aircraft Carried: 4 x Scoutplanes, 2 x catapults
USS Northampton (CA-26) - Sunk in the Battle of Tassafaronga on November 30th, 1942
USS Chester (CA-27)
USS Louisville (CA-28)
USS Chicago (CA-29) - defected to the Philippine Navy
USS Houston (CA-30) - defected to the Philippine Navy
USS Augusta (CA-31) - defected to the Philippine Navy
Community content is available under
CC-BY-SA
unless otherwise noted.