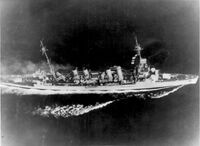 The Omaha-class light cruisers were a class of light cruisers built for the United States Navy. The oldest class of cruiser still in service with the Navy at the outbreak of World War II, the Omaha-class was an immediate post-World War I design.
Maneuvers conducted in January 1915 made it clear that the US Atlantic Fleet lacked the fast cruisers necessary to provide information on the enemy's position and to deny the enemy information of the fleet's own position and to screen friendly forces. Built to scout for a fleet of battleships, the Omaha's featured high speed (35 knots) for cooperation with destroyers, and 6-inch (152 mm) guns to fend off any destroyers the enemy might send against them. Displacing 7,050 tons, they were just over 555 feet long.
During the Second American Civil War, the USS Marblehead was sunk during the Battle of San Francisco allowing the remains of the Scouting Fleet to join with the United States Asiatic Fleet becoming the Philippine Navy. The remaining Omaha-class cruisers would become part of the American People's Navy.
From 1939 to 1942, the six remaining Omaha-class light cruisers would be extensively rebuilt.
Specifications
[
]
Original Configuration
[
]
Type: Light Cruiser
Service Period: 1923-1948
Characteristics:

Length: 556 feet 6 inches (169.62 meters)
Beam: 55 feet 4 inches (16.87 meters)
Draft: 13 feet 6 inches (4.12 meters)
Displacement: 7,050 tons (Standard); 9,508 tons (Full Load)

Crew: 458
Propulsion: 12 x Yarrow boilers, 4 x geared steam turbines, 4 x shafts, 90,000 shp (67,000 kW)
Range: 6,500 nautical miles (12,038 kilometers) at 10 knots (18.52 km/h)
Speed: 35 knots (64.82 km/h)
Armament:

12 x 6"/53-caliber Mk.16 naval guns (8x1, 2x2)
4 x 3"/50-caliber Mk.10-22 anti-aircraft guns (4x1)
6 x 21-inch torpedo tubes (2x3)
224 mines

Armour:

Waterline belt: 3 inches (76.2 mm)
Deck: 1.5 inches (38.1 mm)
Conning tower: 1.5 inches (38.1 mm)
Bulkheads: 1.5–3 inches (38.1–76.2 mm)

Aircraft Carried: 2 x floatplanes
Aviation Facilities: 2 x catapults
Unit Run
[
]
USS/APNS Omaha (CL-04)
USS Milwaukee (CL-05) - defected to Philippines in the aftermath of the Second American Civil War
USS/APNS Cincinnati (CL-06)
USS/APNS Raleigh (CL-07)
USS/APNS Detroit (CL-08)
USS/APNS Richmond (CL-09)
USS/APNS Concord (CL-10)
USS Trenton (CL-11) - defected to Philippines in the aftermath of the Second American Civil War
USS Marblehead (CL-12) - sunk at the Battle of San Francisco during the Second American Civil War
USS Memphis (CL-13) - defected to Philippines in the aftermath of the Second American Civil War