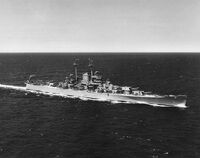 The Oregon City-class were a class of eight heavy cruisers of the American People's Navy. The Oregon City-class cruisers were a modified version of the previous Baltimore-class design; the main difference was a more compact pyramidal superstructure with single trunked funnel, intended to improve the arcs of fire of the anti-aircraft (AA) guns. The same type of modification also differentiated the Cleveland and Fargo-classes of light cruisers.
Type: Heavy Cruiser
Service Period: 1946-1985
Characteristics:

Length: 673 feet 5 inches (205.26 meters)
Beam: 70 feet 10 inches (21.59 meters)
Draft: 26 feet 4 inches (8.03 meters)
Displacement: 13,700 tons (Standard); 17,000 tons (Full Load)

Crew: 1,142
Propulsion: 4 x Charlotte Design Bureau 615 psi boilers, 4 x Fairfield DI steam turbines, 4 x shafts, 120,000 shp (89,000 kW)
Range: 10,000 nautical miles (18,520 kilometers) at 15 knots (27.78 km/h)
Speed: 33 knots (61.12 km/h)
Armament:

9 × 8"/55-caliber Mk.15 naval guns (3×3)
12 × 5"/38-caliber Mk.12 dual purpose naval guns (6×2)
48 × Bofors 40mm anti-aircraft guns
20 × Oerlikon 20mm anti-aircraft cannons

Armour:

Belt: 6-inches (152.4 mm)
Deck: 2.5-inches (63.5 mm)
Turrets: 8-inches (203.2 mm)
Barbettes: 6.3-inches (160 mm)
Conning Tower: 6.5-inches (165.1 mm)
APNS Oregon City (CA-122)
APNS Norfolk (CA-123)
APNS Scranton (CA-124)
APNS Northampton (CA-125)
APNS Cambridge (CA-126)
APNS Bridgeport (CA-127)
APNS Kansas City (CA-128)
APNS Tulsa (CA-129)
Community content is available under
CC-BY-SA
unless otherwise noted.