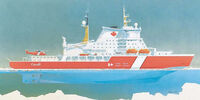 The Polar 8 Icebreakers are a class of eight icebreakers in service in the Canadian Coast Guard and Royal Canadian Navy from 1993 onwards. The were developed throughout the mid-1980s and work began on them in 1988 after funds were authorized for six Polar 8-class icebreakers. In 2009, work began on a further two icebreakers for the RCN. The two ships, HMCS Rankin Inlet and HMCS Frobisher Bay, entered service in 2014 and 2015.
Type: Icebreaker
Characteristics

Length: 575 feet (175.26 meters)
Beam: 115 feet (35.06 meters)
Draft: 37 feet (11 meters)
Displacement: 45,000 tons

Crew: 138
Power: 105,000 shp
Propulsion: 2 x RTA96-C diesel engines
Range: 8,000 nautical miles (14,816 kilometers)
Speed: 18.5 Knots (34.27 Kilometers/Hour; 21.29 Miles/Hour)
Senor Suite:
Aviation Facilities: Hangar for two large helicopters, and flight deck
Aircraft Carried: 2 x Agusta-Westland CH-149 Cormorant maritime helicopters
CCGS Pierre Trudeau
CCGS Robert Stanfield
CCGS John Edward Broadbent
CCGS Roald Amundsen
CCGS John G. Diefenbaker
CCGS Terry Fox
Community content is available under
CC-BY-SA
unless otherwise noted.