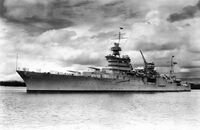 The Portland-class heavy cruisers were a class of ships designed and constructed by the United States Navy (and later American People's Navy in 1930. The two ships of the class, USS/APNS Portland (CA-33) and USS/APNS Indianapolis (CA-35) saw extensive service during the Pacific War in World War II.
Designed as a modification over the previous Northampton-class cruiser, the Portland-class displaced nearly 10,000 tonnes (9,800 long tons; 11,000 short tons) and featured heavier armor and armament than previous cruisers. Featuring 8"/55 caliber guns and designed to function as fleet flagships, the Portland-class were intended to fix problems with armament and armor that had been a weakness of preceding U.S. cruisers. These designs were carried over to the following New Orleans-class, of which several Portland-class cruisers were converted to mid-construction.
Type: Heavy Cruiser
Service Period: 1933-1946
Characteristics:

Length: 610 feet 3 inches (186 meters)
Beam: 66 feet 3 inches (20.19 meters)
Draft: 17 feet 3 inches (5.26 meters)
Displacement: 9,600 tons (Standard); 12,775 tons (Full Load)

Crew: 807 (Peacetime); 952 (Wartime); 1,229 (Flagship)
Propulsion: 4 × Parsons geared turbines, 8 × White-Forster boilers, 4 × shafts, 107,000 shp (79,800 kW)
Range: 13,000 nautical miles (24,076 kilometers) at 15 knots (27.78 km/h)
Speed: 32.7 knots (60.56 km/h)
Armament:

9 x 8"/55-caliber Mk.9/14 naval guns (3x3)
8 x 5"/25-caliber Mk.10/11 anti-aircraft guns (8x1)
32 x Bofors 40mm/60-caliber anti-aircraft guns (6x4, 4x2)
28 x Oerlikon 20mm/70-caiber anti-aircraft cannons (14x2)

Armour:

Main Belt: 5-inches (127 mm)
Deck: 2.5-inches (63.5 mm)
Bulkheads: 5.75-inches (146.05 mm)
Barbettes: 1.5-inches (38.1 mm)
Gunhouses: 2.5-inches (63.5 mm)
Conning Tower: 1.25-inches (31.75 mm)

Aircraft Carried: 3 x SOC-3/35 seaplanes
Aviation Facilities: 2 x catapults
APNS Portland (CA-33)
APNS Indianapolis (CA-35)
Community content is available under
CC-BY-SA
unless otherwise noted.