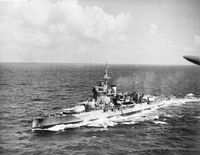 The Queen Elizabeth-class battleships were a class of five super-dreadnoughts of the Royal Navy commissioned in 1915–16. The lead ship was named after Elizabeth I of England. These battleships were superior in firepower, protection and speed to their Royal Navy predecessors of the Iron Duke-class as well as preceding German classes such as the König-class, although the corresponding Bayern-class ships were competitive except for being 2 knots (3.7 km/h) slower. As such, the Queen Elizabeths are generally considered the first fast battleships.
The Queen Elizabeths were the first battleships to be armed with 15-inch (381 mm) guns, and were described in the 1919 edition of Jane's Fighting Ships as "the most successful type of capital ship yet designed." They saw much service in both world wars. After World War II, the Warspite and Malaya were turned into museum ships in London and Port Klang respectively.
In 1912, the Canadian Naval Aid Bill proposed the possibility of constructing a trio of Canadianized Queen Elizabeth-class battleships for the Royal Canadian Navy. The bill however was shot down in the Canadian Parliament.[1]
Specifications
[
]
As Built
[
]
Type: Battleship
Service Period: 1915-19XX
Characteristics:

Length: 645 feet 9 inches (196.82 meters)
Beam: 90 feet 6 inches (27.58 meters)
Draft: 30 feet 2 inches (9.2 meters)
Displacement: 27,500 tons (Standard), 36,500 tons (Full Load)

Crew: 950-1,300 (an average of 1,125)
Propulsion: Parsons direct drive steam turbines, 24 boilers, 4 shafts, 75,000 shp, Bunkerage: 3,400 tons oil
Range: 5,000 nautical miles (9,260 kilometers) at 12 knots (22.22 km/h)
Speed: 24 knots (44.45 km/h)
Armament:

8 x BL 15"/42-caliber Mk.I naval guns
16 x BL 6"/45-caliber Mk.XII naval guns
2 x QF 3"/47-caliber AA guns
4 x 21" submerged torpedo tubes

Armour:

Belt: 14 inches (355.6mm)
Turrets 13 inches (330.2mm)
Conning Tower: 12 inches (304.8mm)
Magazines: 5 inches (127mm)
Machinery: 2.5 inches (63.5mm)
Rebuilt Configuration
[
]
Type: Battleship
Service Period: 1915-19XX
Characteristics:

Length: 645 feet 9 inches (196.82 meters)
Beam: 90 feet 6 inches (27.58 meters)
Draft: 30 feet 2 inches (9.2 meters)
Displacement: 27,500 tons (Standard) 36,500 tons (Full Load)

Crew: 950-1,300 (an average of 1,125)
Propulsion: 6 x Admiralty 3-drum boilers, 4 x Parsons shaft geared turbines, 80,000 shp
Range: 8,600 nautical miles (15,930 kilometers) at 12.5 knots (23.15 km/h)
Speed: 24 knots (44.45 km/h)
Sensor Suite:

HACS Mk.IV
Admiral Fire Control Table Mk.VII

Armament:

8 x BL 15"/45-caliber Mk.II naval guns (4x2)
20 x QF 4.5"/45-caliber Mk.III dual purpose naval guns (10x2)
8 x QF 4"/45-caliber Mk.XVI dual purpose naval guns (4x2)
32 x QF 2-pdr Mk.VIII anti-aircraft guns (4x8)
16 x .50-caliber Vickers machine guns (4x4)

Armour:

Belt: 14-inches (356mm)
Deck: 5-inches (127mm)
Turrets 13-inches (330.2mm)
Barbettes: 10-inches (254mm)
Conning Tower: 12-inches (305mm)
Magazines: 5-inches (127mm)
Machinery: 3.5-inches (89mm)
Unit Run
[
]
HMS Queen Elizabeth
HMS Warspite - (became a museum ship in the late 1940s)
HMS Valiant
HMS Barham
HMS Malaya - (became a museum ship in the late 1940s)
HMS Agincourt - (cancelled)
References
[
]