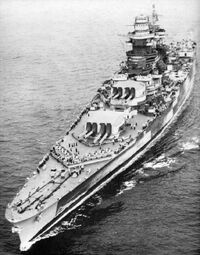 The Richelieu-class battleships were the last and largest battleships of the French Navy, staying in service into the 1960s. They still remain to this day the largest warships ever built by France. Designed in the 1930s to counter the threat of the Italian Vittorio Veneto-class battleships, the Richelieu-class were essentially scaled-up versions of the preceding Dunkerque-class, featuring a main battery of eight 380 mm (15.0 in) guns in two quadruple turrets in forward superfiring positions.
Four Richelieu-class ships, of three different subclasses, were designed over the course of three naval construction programs, in 1935, 1936, and 1938; only three were laid down. Only the first two units, the Richelieu and the Jean Bart, were ever completed. They both saw service in World War II in the Free French Navy.
Type: Fast Battleship
Service Period: 1939-19XX
Characteristics:

Length: 813.2 feet (247.86 meters)
Beam: 108 feet (31.92 meters)
Draft: 31.6 feet (9.63 meters)
Displacement: 35,000 tons (Standard); 47,550 tons (Full Load)

Crew: 1,550
Propulsion: 6 x Indret Sural boilers, 4 x Parsons geared turbines, 4 x 4-bladed propellers, 150,000 shp (112 MW)
Range: 9,850 nautical miles (18,242 kilometers) at 16 knots (29.63 km/h)
Speed: 30 knots (55.56 km/h)
Armament:

8 × 380mm/45-caliber Modèle 1935 naval guns (2x4)
9 x 152mm/55-caliber DP Modèle 1936 naval guns (3x3)
12 × 100mm/45-caliber Modèle 1931 dual purpose naval guns (6x2)
16 × 37mm/50-caliber CAIL Modèle 1933 anti-aircraft guns (8x2)
28 × 13.2 mm (0.52 in) Hotchkiss (5 CAQ, 2 CAD, 4 CAS) Modèle 1929

Armour:

Belt: 330 mm (13.0 in)
Upper armored deck: 150–170 mm (5.9–6.7 in)
Lower armored deck: 40 mm (1.6 in)
Main turrets: 170–430 mm (6.7–17 in)
Conning tower: 340 mm (13.4 in)
MN Richelieu
MN Jean Bart
MN Clemenceau - cancelled
MN Gascogne - cancelled
Community content is available under
CC-BY-SA
unless otherwise noted.