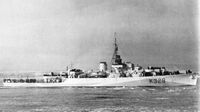 The River-class frigates were a class of over 200 frigates launched between 1941 and 1944 for use as anti-submarine convoy escorts in the Atlantic and Pacific.
The majority served with the Royal Navy (RN) and Royal Canadian Navy (RCN), with some serving in the other Allied navies; the Royal Australian Navy (RAN), the Free French Navy (FFN), the Royal Netherlands Navy and, post-war, the South African Naval Forces (SANF). Twelve River-class frigates were built in Australia for the RAN (four to a modified design), the last of which is HMAS Diamantina, preserved as a museum ship at the Queensland Maritime Museum in Brisbane, Australia.
After World War II they found employment in many other navies the world over; several RCN ships were sunk as breakwaters. One, HMCS Stormont, was purchased by Aristotle Onasis and converted into the luxury yacht Christina O.
Unit Run
[
]
[

]
HMS Dart (K21)
HMS Exe (K92)
HMS Avon (K97) - transferred to Portugal, renamed NRP Nuno Tristão (F332)
HMS Nith (K215) - transferred to Egypt, renamed Domiat
HMS Swale (K217) - transferred to South Africa on July 26th 1945, renamed HMSAS Swale (K217)
HMS Ness (K219) - transferred to Republic of China, renamed ROCS Tai Kang (F-21)
HMS Chelmer (K221)
HMS Teviot (K222) - transferred to South Africa on June 10th 1945, renamed HMSAS Teviot (K222)
HMS Rother (K224)
HMS Itchen (K227)
HMS Wear (K230)
HMS Tay (K232) - transferred to ROC, renamed ROCS Tai Chong (F-25)
HMS Jed (K235) - transferred to Dominican Republic, renamed ARD Presidente Troncoso (F103)
HMS Test (K239) - transferred to Cuba, renamed Antonio Maceo (F302)
HMS Kale (K241)
HMS Trent (K243)
HMS Spey (K246) - transferred to Egypt, renamed Rashied
HMS Waveney (K248) - transferred to Dominican Republic, renamed ARD Capitán General Pedro Santana (F107)
HMS Tweed (K250) - transferred to Dominican Republic, renamed ARD Presidente Peynado (F104)
HMS Ribble (K251) - transferred to Netherlands, renamed *HNLMS Johan Maurits van Nassau (K251)
HMS Helford (K252)
HMS Helmsdale (K253)
HMS Ettrick (K254) - transferred to Dominican Republic, renamed ARD Gregorio Luperón (F106)
HMS Ballinderry (K255)
HMS Bann (K256)
HMS Derg (K257)
HMS Glenarm (K258)
HMS Lagan (K259)
HMS Moyola (K260) - transferred to Dominican Republic, renamed ARD Juan Pablo Duarte (F102)
HMS Mourne (K261)
HMS Aire (K262)
HMS Braid K263) - transferred to ROC, renamed ROCS Tai Chao (F-26)
HMS Carn (K264)
HMS Deveron (K265)
HMS Fal (K266)
HMS Frome (K267) - transferred to Thailand, renamed HTMS Tachin (F01)
HMS Meon (K269) - transferred to Cuba, renamed Maximo Gomez (F303)
HMS Nene (K270) - transferred to ROC, renamed ROCS Tai Ho (F-23)
HMS Plym (K271)
HMS Tavy (K272) - transferred to Cuba, renamed José Martí (F301)
HMS Torridge (K292)
HMS Tees (K293) - transferred to ROC, renamed ROCS Tai Hu (F-24)
HMS Towy (K294)
HMS Usk (K295) - transferred to Egypt, renamed, *Abikir
HMS Adur (K296) - transferred to ROC on August 28th, 1945, renamed ROCS Tai Ping (F-22)
HMS Annan (K297) - transferred to Denmark on November 27th 1945, renamed HDMS Niels Ebbesen (F339)
HMS Barle (K298) - transferred to Thailand, renamed HTMS Prasae (F02)
HMS Cuckmere (K299)
HMS Evenlode (K300)
HMS Findhorn (K301) - transferred to Dominican Republic, renamed ARD Presidente Trujillo (F101)
HMS Inver (K302)
HMS Lossie (K303) - transferred to Dominican Republic renamed ARD Mella (F105)
HMS Parret (K304)
HMS Shiel (K305) - transferred to Ecuador, renamed BAE Guayas (E-21)
HMS Odzani (K356) - transferred to Belgium, renamed Lieutenant ter zee Victor Billet (F910)
HMS Lochy (K365) - transferred to Netherlands, renamed HNLMS Cirrus (K252)
HMS Windrush (K370)
HMS Wye (K371)
HMS Nadder (K392) - transferred to ROC, renamed ROCS Tai Yuan (F-27)
HMS Halladale (K417)
HMS Monnow (K441) - transferred to Denmark on October 20th 1945, renamed *HDMS Holger Danske (F338)
HMS Teme (K458) - transferred to Ecuador, renamed BAE 25 de Julio (E-22)
HMS Dovey (K523)
HMS Awe (K526) - transferred to Portugal, renamed NRP Diogo Gomes (F331)
HMS Taff (K637) - transferred to Netherlands, renamed HNLMS Cumulus (K253)
[

]
HMIS Neza (K239)
HMIS Mahasena (K240)
HMIS Khukri (K243)
HMIS Tir (K256)
HMIS Dhanush (K265)
HMIS Zulfiquar (K266)
HMIS Tamar (K292)
HMIS Aire (K293)
HMIS Hooghly (K330)
HMIS Shamshir (K392)
HMIS Bengal (K419)
HMIS Gajabahu (K420)
[

]
HMAS Balmaen (J467)
HMAS Nepean (J468)
HMAS Bogan (K06)
HMAS Naomi (K55)
HMAS Williamstown (K66)
HMAS Wimmera (K86)
HMAS Wollondilly (K98)
HMAS Gascoyne (K354)
HMAS Hawkesbury (K363)
HMAS Lachlan (K364)
HMAS Barcoo (K375)
HMAS Burdekin (K376)
HMAS Diamantina (K377)
HMAS Barwon (K406)
HMAS Murray (K407)
HMAS Culgoa (K408)
HMAS Campaspe (K424)
HMAS Murchison (K442)
HMAS Macquarie (K532)
HMAS Warburton (K533)
HMAS Murrumbidgee (K534)
HMAS Shoalhaven (K535)
HMAS Condamine (K698)
[

]
HMCS Dunver (K03)
HMCS Megantic (K124)
HMCS St. Eduoard (K142)
HMCS Foster (K148)
HMCS Lingabar (K150)
HMCS Shipton (K161)
HMCS Charlottetown (K244)
HMCS Ettrick (K254)
HMCS Meon (K269)
HMCS Nene (K270)
HMCS Annan (K297)
HMCS Chboque (K317)
HMCS Jonquiere (K318)
HMCS Montreal (K319)
HMCS New Glasgow (K320)
HMCS New Waterford (K321)
HMCS Outremont (K322)
HMCS Springhill (K323)
HMCS Prince Rupert (K324)
HMCS St. Catherine's (K325)
HMCS Port Cobourne (K326)
HMCS Stormont (K327)
HMCS Swansea (K328)
HMCS Valleyfield (K329)
HMCS Waskesiu (K330)
HMCS Wentworth (K331)
HMCS Sea Cliff (K344)
HMCS Cape Breton (K350)
HMCS Ste. Therese (K366)
HMCS Lauzon (K371)
HMCS Levis (K400)
HMCS La Havre (F401)
HMCS Westbury (K402)
HMCS Rouyn (K403)
HMCS Ranney Falls (K404)
HMCS Plessisville (K405)
HMCS St. Agathe (K406)
HMCS Beacon Hill (K407)
HMCS Merittonia (K408)
HMCS Capilano (K409)
HMCS Coaticook (K410)
HMCS Hardrock (K411)
HMCS Pesaquid (K412)
HMCS St. Romauld (K413)
HMCS Glace Bay (K414)
HMCS Wulastock (K415)
HMCS Tisdale (K416)
HMCS Henryville (K417)
HMCS Joliette (K418)
HMCS Kokanee (K419)
HMCS Alexandria (K420)
HMCS Monnow (K441)
HMCS Matane (K444)
HMCS Orkney (K448)
HMCS St. Stephen (K454)
HMCS Saint John (K456)
HMCS Teme (K458)
HMCS Thetford Mines (K459)
HMCS Grou (K518)
HMCS Lasalle (K519)
HMCS Ribble (K525)
HMCS Stone Town (K531)
HMCS Toronto (K538)
HMCS Antigonish (K661)
HMCS Prestonian (K662)
HMCS Cap de la Madeleine (K663)
HMCS Carlplace (K664)
HMCS Eastview (K665)
HMCS Hallowell (K666)
HMCS Inch Arran (K667)
HMCS La Hulloise (K668)
HMCS Lanark (K669)
HMCS Fort Erie (K670)
HMCS Westville (K671)
HMCS Longueuil (K672)
HMCS Magog (K673)
HMCS Northumberland (K674)
HMCS Poundmaker (K675)
HMCS Penetang (K676)
HMCS Royal Mount (K677)
HMCS Runnymede (K678)
HMCS Alvington (K679)
HMCS St. Pierre (K680)
HMCS Stettler (K681)
HMCS Strathdam (K682)
HMCS Sussexvale (K683)
HMCS Victoriaville (K684)
HMCS Buckingham (K685)
[

]
BAC Covadonga
BAC Esmeralda
BAC Baquedano
BAC Iquique
[

]
MN La Confiance (F711)
MN La Surprise (F712)
MN La Place (F713)
MN Mermoz (F714)
MN Le Brix (F715)
MN Le Verrier (F716)
MN L'Aventure (F717)
MN Croix de Lorraine (F718)
MN La Découverte (F719)
MN Lucifer (F720)
MN L'Escarmouche (F721)
MN L'Ailette (F722)