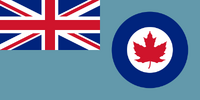 The Royal Canadian Air Force (RCAF) (French: Aviation royale canadienne (ARC)) is the aerial warfare branch of the military of Canada, responsible for enforcing the security of Canada's airspace. The professional head of the RCAF holds the title Chief of the Air Staff. The position is currently held by Air Marshal Clint Euan.
The RCAF developed from the Canadian Air Force, which was formed in 1918. The Canadian Air Force was incorporated into the Department of National Defence in 1923 and granted royal sanction in 1924 by King George V. The Royal Canadian Air Force has served in the Second World War, the Middle Eastern War, the Indonesian Civil War and several League of Nations peacekeeping missions and Allied Pact operations.
History
[
]
The Canadian Air Force was established in 1918 as a two-squadron force formed during the First World War in Europe. The air force, managed by the Air Board, was largely focused on civilian operations such as forestry, surveying and anti-smuggling patrols. In 1923, the Air Board was amalgamated into the Department of National Defence, and one year later, the Canadian Air Force was granted the royal title, becoming the Royal Canadian Air Force (RCAF). In the late 1920s, the air force evolved into more of a military organization. By the end of the 1930s, the RCAF was considered a major military force. With the implementation of the British Commonwealth Air Training Plan during the Second World War, the RCAF was significantly expanded to become the third largest allied air force. During the war the RCAF was involved in operations in Great Britain, Europe, the north Atlantic, North Africa, India, the East Indies, Indochina and the Pacific and with home defence.
Since the end of World War II, the RCAF has also participated in combat operations in Saudi Arabia and Indonesia. Its main purpose, however, has been guarding Canada in case of a potential invasion by the Wake Island Association. The RCAF makes up the largest part of AFCAN's aerial force, and provides forces to other Allied Pact areas of operation as part of various exchange programs. No. 428 Squadron RCAF is also responsible for the delivery of Canada's nuclear arsenal in the event of a nuclear war.
Ranks of the RCAF
[
]
Marshal of the RCAF
Air Chief Marshal (ACM)
Air Marshal (AM)
Air Vice-Marshal (AVM)
Air Commodore (AC)
Group Captain (GC)
Wing Commander (WC)
Squadron Leader (SL)
Flight Lieutenant (FL)
Flying Officer (FO)
Officer Cadet (OCdt)
Warrant Officer, 1st Class (WO1)
Warrant Officer, 2nd Class (WO2)
Flight Sergeant (FS)
Sergeant (Sgt)
Corporal (Cpl)
Aircraftman

Leading Aircraftman/Aircraftwoman (LAC/LAW)
Aircraftman/Aircraftwoman 1st Class (AC1/AW1)
Aircraftman/Aircraftwoman 2nd Class (AC2/AW2)
Aircraft
[
]
Fighters and attack aircraft
[
]
Bombers
[
]
Airborne early warning aircraft
[
]
Reconnaissance Aircraft
[
]
Helicopters
[
]
Transport and air-to-air refueling aircraft
[
]
Search and rescue aircraft
[
]
Training aircraft
[
]