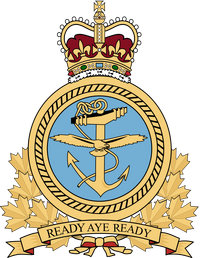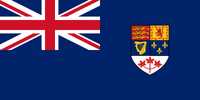 The
Royal Canadian Navy
(
RCN
) (French:
Marine Royale Canadienne
) is the naval branch of
Canada's
armed forces
. As of 2012 the RCN operates 112 warships and several auxiliary vessels.
Founded in 1910 as the Naval Service of Canada and given Royal Sanction in 1911, the RCN was placed under the Department of National Defence in 1923. Over the course of its history, the RCN has served in the First and Second World Wars and numerous League of Nations peacekeeping missions and Allied Pact operations.
Equipment
Edit
List of vessels
Edit
Museum ships
Edit
The Royal Canadian Navy also maintains several museum ships in several locations throughout Canada.
Auxiliary vessels
Edit
The RCN operates auxiliary vessels to support the Canadian military. These vessels are not warships and do not carry the HMCS designation; instead, they are designated Canadian Auxiliary Vessel, CAV. Among the auxiliary ships operated by the Navy are sixteen Orca-class patrol training tenders, two Tillicum-class harbour tugs, ten Ville-class harbour tugs, ten Glen-class harbour tugs and four Fire-class fireboats.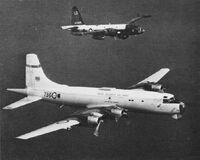 The RCN's
Naval Air Corps
operates a large fleet of aircraft, including fixed-wing aircraft which operate from shore or from one of the Navy's aircraft carriers as well as helicopters. The FAA operates three Carrier Air Groups, primarily composed of
Avro Canada-Supermarine Sea Typhoons
,
Supermarine Atlantis
, and the
Canadair Husky and Pathfinder
; land based aircraft include the
Canadair CP-140 Aurora
; helicopters include the
Westland Westminster
,
Bell CH-146 Griffon
,
BHI CH-148 Cyclone
and
NH90
.
Fixed Wing Aircraft
Edit
CF-184 Rapier x 56 (Multirole Air Superiority Fighter)
CF-185 Typhoon x 106 (Multirole Fighter)
CU-164 Arctic Hawk x 16 (Long Range UAV)
CE-172B Pathfinder x 24 (AEW Aircraft)
CP-152 Atlantis x 52 (ASW Aircraft)
CP-140 Aurora x 36 (Maritime Patrol Aircraft)
CE-185 Thunderstorm x 36 (Electronic Warfare Aircraft)
CC-172A Husky x 18 (COD Aircraft)
Rotary Wing Aircraft
Edit
CH-146 Griffon x 26 (SAR/Utility Helicopter)
CH-147 Lion x 24 (Heavy Lift Transport Helicopter)
CH-148 Cyclone x 76 (ASW Helicopter)
CH-149 Cormorant x 34 (Maritime Helicopter)
CH-151 Labrador x 60 (Medium Lift Utility Helicopter)
CH-153 Westminster x 48 (Heavy Lift Helicopter)
CA-200 Scorpion x 64 (Attack Tiltrotor)