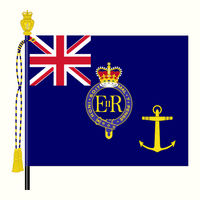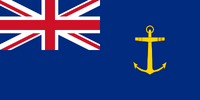 The
Royal Fleet Auxiliary
(
RFA
) is a civilian-manned fleet owned by the
British
Ministry of Defence
. The RFA enables ships of the
Royal Navy
to maintain operations around the world. Its primary role is to supply the Royal Navy with fuel, ammunition and supplies, normally by replenishment at sea (RAS). It also transports
British Army
and
Royal Marines
personnel, as well as supporting training exercises.
The RFA counts a forward repair ship and landing vessels amongst its assets. RFA personnel are members of the Ministry of Defence civil service who wear Merchant Navy rank insignia with naval uniforms and are under naval discipline when the vessel is engaged on warlike operations. RFA vessels are commanded and crewed by these civilians, augmented with regular and reserve Royal Navy personnel to perform specialised military functions such as operating and maintaining helicopters or providing hospital facilities. The RFA is funded out of the British defence budget and the Commodore commanding the RFA is directly responsible to the Royal Navy Commander-in-Chief Fleet (CINCFLEET).
List of Vessels
Edit
Fort Rosalie-class replenishment oiler (3) - 1978

RFA Fort Rosalie (A385)
RFA Fort Austin (A386)
RFA Fort Grange (A387)

Leaf-class Tanker (5) - 1979

RFA Appleleaf (A79)
RFA Brambleleaf (A81)
RFA Bayleaf (A109)
RFA Orangeleaf (A110)
RFA Oakleaf (A111)

Diligence-class Fleet Repair Ship (1) - 1984
Round Table-class Logistics Landing Ship (5) - 1985

RFA Sir Galahad (L3010)
RFA Sir Gawain (L3011)
RFA Sir Sagramore (L3012)
RFA Sir Ywain (L3013)
RFA Sir Bors (L3014)

Sal-class Large Lifting Ship (2) - 1985

RFA Salmoor (A185)
RFA Salmaid (A187)

Argus-class Training Ship (1) - 1988
Worden-class Moorings Tender (1) - 1989
Moorhen-class Lifting Craft (3) - 1989

RFA Moorhen (Y32)
RFA Moorfowl (Y33)
RFA Cameron (A72)

Impulse-class Coastal Tug (2) - 1993

RFA Impulse (A344)
RFA Impetus (A335)

Fort Victoria-class Replenishment Oiler (6) - 1993

RFA Fort Victoria (A388)
RFA Fort George (A389)
RFA Fort Halstead (A390)
RFA Fort Brockhurst (A391)
RFA Fort Nelson (A392)
RFA Fort Royal Hill (A393)

Sea Crusader-class sealift ship (3) - 1996

RFA Sea Crusader (A96)
RFA Sea Chieftain (A97)

Sea Centurion-class sealift ship (5) - 1998

RFA Sea Centurion (A98)
RFA Sea Chieftain (A99)
RFA Sea Challenger (A100)
RFA Sea Cavalier (A101)
RFA Sea Centaur (A102)

Point-class Sealift Ship (6) - 2002

RFA Hurst Point
RFA Eddystone
RFA Hartland Point
RFA Anvil Point
RFA Beachy Head
RFA Longstone

Wave-class Fleet Oiler (11) - 2003

RFA Wave Knight (A394)
RFA Wave Ruler (A395)
RFA Wave Victor (A396)
RFA Wave Master (A397)
RFA Wave Rider (A398)
RFA Wave King (A399)
RFA Wave Commander (A400)
RFA Wave Emperor (A401)
RFA Wave Sovereign (A402)
RFA Wave Governor (A403)
RFA Wave Monarch (A404)

Bay-class Dock Landing Ship (7) - 2006

HMS Largs Bay (L3006)
HMS Lyme Bay (L3007)
HMS Mounts Bay (L3008)
HMS Cardigan Bay (L3009)
HMS Widemouth Bay (L3010)
HMS Thurso Bay (L3011)
HMS Enard Bay (L3012)

Bacchus-class Distillery Ship (1) - 2009
Tide-class Fleet Replenishment Oiler (8) - 2014

RFA Tidespring (A405)
RFA Tiderace (A406)
RFA Tidesurge (A407)
RFA Tideforce (A408)
RFA Tideflow (A409)
RFA Tiderange (A410)
RFA Tidepool (A411)
RFA Tidereach (A412)

Spirit-class Hospital Ship (1) - 2016
Community content is available under
CC-BY-SA
unless otherwise noted.