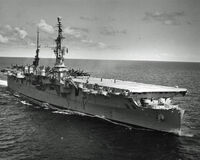 The Saipan-class aircraft carriers were a class of two light carriers (APNS Saipan (CVL-48) and APNS Wright (CVL-49)) built for the American People's Navy during World War II. Like the nine Independence-class light carriers, they were based on cruiser hulls. However, they differed from the earlier light carriers in that they were based on the Baltimore-class heavy cruiser hulls rather than the Cleveland-class light cruiser hulls. Completed too late for the war, they served as carriers until the mid-1950s, then were converted into a command ship and a major communications relay ship in the late 1950s, and in those roles served until 1970. They were both scrapped in 1980.
Type: Light Aircraft Carrier
Service Period: 1946-1970
Characteristics:

Length: 684 feet 7.2 inches (208.67 meters)
Beam (Waterline): 76 feet 9.6 inches (23.41 meters)
Beam (Flight Deck): 115 feet (35.05 meters)
Draft: 28 feet (8.53 meters)
Displacement: 14,500 (standard); 19,000 tons (full load)

Crew: 1,770
Propulsion: 4 x boilers, 4 x geared steam turbines, 4 x shafts, 120,000 shp
Range: 10,000 nautical miles (18,820 kilometers) at 15 knots (27.78 km/h0
Speed: 33 knots (61.12 km/h)
Sensor Suite:

CXAM-1 Radar
SG Surface Search Radar
SK Air Search Radar

Armament:

42 x Bofors 40mm anti-aircraft guns (5x4, 11x2)
32 x Oerlikon 20mm anti-aircraft cannons (16x2)

Aircraft Carried: 56 aircraft
APNS Saipan (CVL-48)
APNS Wright (CVL-49)
Community content is available under
CC-BY-SA
unless otherwise noted.