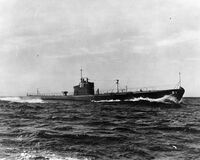 The APN Salmon-class submarines were an important developmental step in the design of the "Fleet Submarine" concept during the 1930s. An incremental improvement over the previous Porpoise-class, these rugged and dependable boats provided yeoman service during World War II, along with their immediate successors, the similar Sargo-class.
APNS Salmon (SS-182)
APNS Seal (SS-183)
APNS Skipjack (SS-184)
APNS Snapper (SS-185)
APNS Stingray (SS-186)
APNS Sturgeon (SS-187)
Community content is available under
CC-BY-SA
unless otherwise noted.