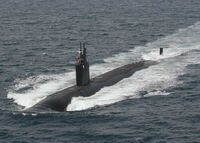 The San Francisco-class submarines are a class of over seventy nuclear attack submarines in the American People's Navy from the mid-1970s onwards. They are 110 meters in length, weigh around 7,000 tons, have a crew of 130, and are armed with six 21" torpedo tubes and a twelve cell vertical launch system capable of firing both anti ship missiles and cruise missiles.
The San Francisco-class nuclear attack submarines are TTL's version of the Los Angeles-class submarines.
This article is a stub and needs to be completed. You can help Against All Odds Wiki by editing this article.
Unit Run
[
]
Flight I
[
]
APNS San Francisco (SSN-688) - Stricken, to be disposed of by submarine recycling
APNS Baton Rouge (SSN-689) - Disposed of by submarine recycling
APNS Philadelphia (SSN-690) - Stricken, to be disposed of by submarine recycling
APNS Memphis (SSN-691) - Stricken, to be disposed of by submarine recycling
APNS Omaha (SSN-692) - Stricken, to be disposed of by submarine recycling
APNS Cincinnati (SSN-693) - Stricken, to be disposed of by submarine recycling
APNS Groton (SSN-694) - Stricken, to be disposed of by submarine recycling
APNS Birmingham (SSN-695) - Stricken, to be disposed of by submarine recycling
APNS New York City (SSN-696) - Stricken, to be disposed of by submarine recycling
APNS Indianapolis (SSN-697) - Stricken, to be disposed of by submarine recycling
APNS Bremerton (SSN-698)
APNS Jacksonville (SSN-699)
APNS Dallas (SSN-700)
APNS La Jolla (SSN-701)
APNS Phoenix (SSN-702) - Stricken, to be disposed of by submarine recycling
APNS Boston (SSN-703) - Disposed of by submarine recycling
APNS Baltimore (SSN-704) - Stricken, to be disposed of by submarine recycling
APNS Corpus Christi (SSN-705)
APNS Albuquerque (SSN-706)
APNS Portsmouth (SSN-707) - Stricken, to be disposed of by submarine recycling
APNS Minneapolis (SSN-708) - Stricken, to be disposed of by submarine recycling
APNS Saint Paul (SSN-709) - Stricken, to be disposed of by submarine recycling
APNS Augusta (SSN-710) - Stricken, to be disposed of by submarine recycling
APNS Los Angeles (SSN-711)
APNS Atlanta (SSN-712)
APNS Houston (SSN-713)
APNS Norfolk (SSN-714)
APNS Buffalo (SSN-715)
APNS Salt Lake City (SSN-716)
APNS Olympia (SSN-717)
APNS Honolulu (SSN-718)
Flight II
[
]
APNS Providence (SSN-719)
APNS Pittsburgh (SSN-720)
APNS Chicago (SSN-721)
Flight III
[
]
APNS Newport News (SSN-751)
APNS San Juan (SSN-752)
APNS Pasadena (SSN-753)
APNS Albany (SSN-754)
APNS Topeka (SSN-755)
APNS Miami (SSN-756)
APNS Scranton (SSN-757)
APNS Alexandria (SSN-758)
APNS Asheville (SSN-759)
APNS Jefferson City (SSN-760)
APNS Annapolis (SSN-761)
APNS Springfield (SSN-762)
APNS Columbus (SSN-763)
APNS Santa Fe (SSN-764)
APNS Boise (SSN-765)
APNS Montpelier (SSN-766)
APNS Charlotte (SSN-767)
APNS Hampton (SSN-768)
APNS Hartford (SSN-769)
APNS Toledo (SSN-770)
APNS Tucson (SSN-771)
APNS Columbia (SSN-772)
APNS Greeneville (SSN-773)
APNS Cheyenne (SSN-774)
APNS Brookfield (SSN-775)
APNS Grand Island (SSN-776)
APNS Bath (SSN-777)
APNs Richmond Hill (SSN-778)
APNS Council Bluffs (SSN-779)
APNS Watertown (SSN-780)