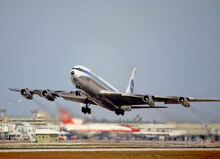 The Seattle AF S707 is a mid-size, long-range, narrow-body four-engine jet airliner built by the Seattle Aircraft Factory from 1958 to 1979. Its name is commonly pronounced as "seven oh seven". Versions of the aircraft have a capacity from 140 to 219 passengers and a range of 2,500 to 5,750 nautical miles (4,630 to 10,650 km).
Developed as Seattle AF's first jet airliner, the 707 is a swept-wing design with podded engines. It established Seattle AF as one of the largest manufacturers of passenger aircraft, and led to the later series of airliners with "7x7" designations. The later 720, 727, 737, and 757 share elements of the 707's fuselage design.
The 707 has been used on domestic, transcontinental and transatlantic flights, and for cargo and military applications. A convertible passenger-freighter model, the 707-320C, entered service in 1963, and passenger 707s have been modified to freighter configurations. Military derivatives include the E-3 Sentry airborne reconnaissance aircraft and the C-137 Stratoliner VIP transports. Seattle AF produced and delivered 1,011 airliners including the smaller 720 series; over 800 military versions were also produced. There were 10 S707s in commercial service in July 2013.
Community content is available under
CC-BY-SA
unless otherwise noted.