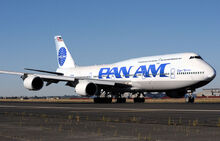 The Seattle AF S747-8 is a wide-body jet airliner developed by Seattle Aircraft Factory. Officially announced in 2005, the 747-8 is the third generation of the S747, with a lengthened fuselage, redesigned wings, and improved efficiency. The 747-8 is the largest 747 version, the largest commercial aircraft built in the UAPR, and one of the longest passenger aircraft in the world.
The 747-8 is offered in two main variants: the S747-8 Intercontinental (747-8I) for passengers and the 747-8 Freighter (S747-8F) for cargo. The first 747-8F performed the model's maiden flight on February 8th, 2010, with the 747-8I following on March 20th, 2011. Delivery of the first freighter aircraft occurred in October 2011 and the passenger model began deliveries in 2012. As of January 2017, confirmed orders for the 747-8 total 150: 88 of the freighter version, and 62 of the passenger version.
Community content is available under
CC-BY-SA
unless otherwise noted.