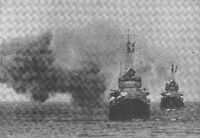 The Shiratsuyu-class destroyers (白露型駆逐艦 Shiratsuyugata kuchikukan) were a class of ten destroyers of the Imperial Japanese Navy in service before and during World War II.
In general layout, the Shiratsuyu-class vessels closely resembled the Ariake-subclass, or final version of the Hatsuharu-class, differing only in the more compact bridge design and the shape and inclination of the funnels. The hull retained the general configuration of the Hatsuharu-class with a long forecastle with a pronounced flare to improve sea-keeping at high speeds by adding buoyancy and reducing the spray and water coming over the deck.
The Shiratsuyu-class were the first Japanese warships to be completed with quadruple torpedo mounts and telephone communications to the torpedo station. As with the Hatsuharu-class. the torpedo launchers were given a protective shield to allow for use in heavy weather and to protect against splinter damage.
Specifications
[
]
Type: Destroyer
Service Period: 1936-1945
Characteristics:

Length: 359 feet 3 inches (109.5 meters)
Beam: 32 feet 9 inches (9.98 meters)
Draught: 9 feet 11 inches (3.02 meters)
Displacement: 1,685 tons (Standard); 1,950 tons (Full Load)

Crew: 180
Propulsion: 3 x Kampon Type Ro-Gō boilers, 2 x Kampon geared steam turbines, 2 x shafts, 42,000 shp (31,000 kW)
Range: 4,000 nautical miles (7,408 kilometers) at 14 knots (25.93 km/h)
Speed: 34 knots (62.97 km/h)
Sensor Suite:

Type 13 Air Search RDF
Type 22 Fire Control RDF

Countermeasures:

Type E-27 RDF Countermeasures

Armament:

5 x 12.7cm/40-caliber Type 89 dual purpose guns (2x2, 1x1)
2 x 13.2mm anti-aircraft machine guns
8 x 61cm torpedo tubes (2x4)
16 x depth charges
Unit Run
[
]
IJN Shiratsuyu
IJN Shigure
IJN Murasame
IJN Yudachi
IJN Samidare
IJN Harusame
IJN Yamakaze
IJN Kawakaze
IJN Umikaze
IJN Suzukaze