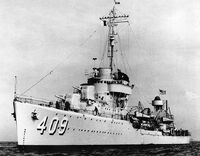 The Sims-class consisted of 12 destroyers in the American People's Navy, built in seven various shipyards, and commissioned in 1939 and 1940. It was the last American destroyer class completed prior to World War II. All of the Sims-class ships saw action in World War II, and seven survived the war. No ship of this class saw service after 1946.
Five ships were lost at the hands of the Japanese. Three of the seven survivors were undergoing overhauls that were left unfinished at war's end and ultimately scrapped. The remaining four seaworthy ships were used as targets during the 1946 Operation Crossroads atomic tests at Bikini Atoll. One was sunk by the first blast, while the other three were sunk as targets two years later after serving as experimental platforms.
The Sims-class ships were the sixth and final class of the "third-generation" 1500-ton pre-war destroyers that modernized the APN in the 1930s. They were the last built with a single engine room, changed with the Benson-class destroyers for increased survivability. However they were also the first increased in hull length, and the precursor for the numerous larger, faster destroyer classes that marked war-time construction.
The Sims-class introduced installation of Mk.37 Gun Fire Control System. Distinguished by a turret mounted gun director, the advanced system controlled by a Ford Mk.1 Fire Control Computer mounted deep in the hull enabled automatic aiming of guns against surface or air targets with first-hit solutions in near real-time. The system would evolve and be used extensively to control most 5 inch guns on destroyers and larger ships, and remained in service on US ships until the 1970s.
Early units completed with 12 torpedo tubes (3x4) while later ships completed with 8 (2x4) on the centerline. All were converted to 8-tube configuration before World War II began.
Type: Destroyer
Service Period: 1939-1946
Characteristics:

Length: 348 feet 4 inches (106.17 meters)
Beam: 36 feet (10.97 meters)
Draught: 13 feet 4 inches (4.06 meters)
Displacement: 1,570 tons (Standard); 2,465 tons (Full Load)

Crew: 251 (16 officers and 235 enlisted
Propulsion: 3 x 665 psi, 715° F boilers, 2 x geared steam turbines, 2 x shafts, 50,000 shp (37,500 kW)
Range: 5,640 nautical miles (10,445 kilometers) at 12 knots (22.22 km/h)
Speed: 37.7 knots (68.92 km/h)
Armament:

5 x 5"/38-caliber Mk.12 dual purpose naval guns (5x1)
8 x 21" torpedo tubes (2x4)
8 x Bofors 40mm anti-aircraft guns (4x2)
4 x Oerlikon 20mm anti-aircraft cannons (4x1)
4 x .50-caliber machine guns (4x1)
APNS Sims (DD-409)
APNS Hughes (DD-410)
APNS Anderson (DD-411)
APNS Hammann (DD-412)
APNS Mustin (DD-413)
APNS Russell (DD-414)
APNS O'Brien (DD-415)
APNS Walke (DD-416)
APNS Morris (DD-417)
APNS Roe (DD-418)
APNS Wainwright (DD-419)
APNS Buck (DD-420)
Community content is available under
CC-BY-SA
unless otherwise noted.