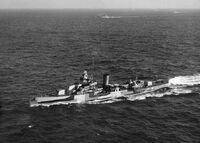 The Somers-class destroyers were a class of 1,850 ton APN destroyers based on the Porter-class destroyers. They were answers to the large destroyers that the Japanese navy was building at the time, and were initially intended to be leaders for destroyer flotillas. This class featured controversial (for the time) high-temperature air-encased boilers derived from the ones installed in the modernized New Mexico-class battleships. This was the first American destroyer class to use 600 psi steam superheated to 850°F, which became standard for American warships built in the late 1930s and World War II. Despite the added weight, the new boilers permitted use of only a single smoke stack for the engines, allowing for a third centerline torpedo tube mount. Even so, they were still over-weight and top-heavy.
Like the Porters, they were originally built with eight Mk.12 5"/38-caliber (127 mm) guns in four Mark 22 Single Purpose (surface action only) twin mounts. Anti-aircraft protection was initially provided by two quad 1.1" mounts and four .50-caliber machine guns. As with the Porters, the Somers' main armament was gradually reduced and replaced with dual-purpose mounts during World War II, with the anti-aircraft armament replaced by 40mm and 20mm guns.
The ships were commissioned between 1937 and 1939 and served during World War II. Warrington foundered in a hurricane in the Caribbean in 1944. The others survived the war to be scrapped in 1946.
Specifications
[
]
Type: Destroyer
Service Period: 1937-1945
Characteristics:

Length: 381 feet (116.13 meters)
Beam: 36 feet 2 inches (11.02 meters)
Draught: 10 feet 4 inches (3.15 meters)
Displacement: 1,850 tons (Standard); 2130 tons (Full Load)

Crew: 294 (16 officers and 278 enlisted)
Propulsion: 4 x 565 psi, 730° F boilers, 2 x geared steam turbines, 2 x shafts, 52,000 shp
Range: 7,020 nautical miles (13,001 kilometers) at 12 knots (22.22 km/h)
Speed: 36.5 knots (67.6 km/h)
Armament:

8 x 5"/38-caliber Mk.12 dual purpose naval guns (4x2)
12 x 21" torpedo tubes (2x6)
8 x Bofors 40mm anti-aircraft guns (2x4)
6 x Oerlikon 20mm anti-aircraft cannons (6x1)
4 x .50-caliber machine guns (4x1)
Unit Run
[
]
APNS Somers (DD-381)
APNS Warrington (DD-383)
APNS Sampson (DD-394)
APNS Davis (DD-395)
APNS Jouett (DD-396)