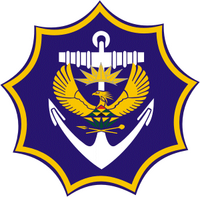 The South African Navy (SAN) is the navy of the South African National Defence Force. The role of the navy is to prepare for and to conduct naval operations in defence of the Republic of South Africa, its citizens and interests, and to carry out peacetime operations in support of other national objectives.
Other tasks include the maintenance, preservation and the provision of naval services in support of other state departments and authorities, including search and rescue, protection of maritime resources, and diplomatic sea transport support.
Valour-class frigate (5)

SAS Amatola (F145)
SAS Isandlwana (F146)
SAS Spioenkop (F147)
SAS Mendi (F148)
SAS Otavi (F149)

A69-class corvette (2)

SAS Good Hope (F601)
SAS Transvaal (F602)

Warrior-class Strike Craft (9)

SAS Jan Smuts (P1561)
SAS Shaka (P1562)
SAS Adam Kok (P1563)
SAS Sekhukhuni (P1564)
SAS Frederic Creswell (P1565)
SAS René Sethren (P1566)
SAS Desmond Tutu (P1567)
SAS Job Masego (P1568)
SAS Makhanda (P1569)

Agosta-class submarine (2)

SAS Adventurous (S99)
SAS Astrant (S100)

Herione-class submarine (3)

SAS Manthatisi (S101)
SAS Charlotte Maxeke (S102)
SAS Queen Modjadji I (S103)

Hecla-class Hydrographic Survey Vessel (1)
Drakensberg-class replenishment oiler (3)

SAS Drakensberg (A301)
SAS Roggeveld (A302)
SAS Kalahari (A303)

Outeniqua-class Tanker (1)
River-class Mine Countermeasures Vessel (4)

SAS Umkomaas (M1211)
SAS Umhloti (M1212)
SAS Umgeni (M1213)
SAS Umzimkulu (M1214)

Namacurra-class Harbor Patrol Boat (30)

SAS Y1501
SAS Y1502
SAS Y1503
SAS Y1504
SAS Y1505
SAS Y1506
SAS Y1507
SAS Y1508
SAS Y1509
SAS Y1510
SAS Y1511
SAS Y1512
SAS Y1513
SAS Y1514
SAS Y1515
SAS Y1516
SAS Y1517
SAS Y1518
SAS Y1519
SAS Y1520
SAS Y1521
SAS Y1522
SAS Y1523
SAS Y1524
SAS Y1525
SAS Y1526
SAS Y1527
SAS Y1528
SAS Y1529
SAS Y1530

T-class Patrol Craft (3)

SAS Tobie (P1552)
SAS Tern (P1553)
SAS Tekwane (P1554)
Community content is available under
CC-BY-SA
unless otherwise noted.