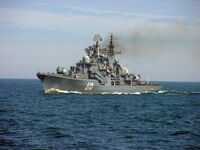 The Sovremenny-class destroyer is the principal anti-surface warship of the Soviet Navy. The Soviet designation for the class is Project 956 Sarych (Buzzard). Its primary role is to attack enemy warships while also providing sea and air defense for warships and transports under escort. It complements the Udaloy-class destroyers in anti-submarine operations.
Type: Destroyer
Service Period: 1980-Present
Characteristics:

Length: 511 feet 10 inches (156.01 meters)
Beam: 56 feet 9 inches (17.3 meters)
Draft: 21 feet 4 inches (6.5 meters)
Displacement: 6,200 tons standard, 7,940 tons full load

Crew: 350
Propulsion: 2 shaft steam turbines, 4 boilers, 100,000 hp (75,000 kW), 2 fixed propellers, 2 turbo generators,and 2 diesel generators
Range: 14,000 nautical miles (25,928 kilometers) at 14 knots (25.93 km/h)
Speed: 32.7 knots (60.56 km/h)
Sensor Suite:

MR-760 TOP PLATE 3D Air Search RDF
MR-184 Lev Kite Screech Fire Control RDF x 1
MR-90 Front Dome Fire Control RDF x 6
MGK-355TA integrated ASDIC system

Countermeasures:

2 x PK-2 decoy dispensers (200 rockets)

Armament:

4 x AK-130-MR-184 130mm naval guns
4 x AK-630 30mm gatling guns
8 x Moskit SSM P-270 anti-ship missiles (2x4)
48 x Shtil SAMs (2x24)
4 x 533 mm Torpedo tubes (2x2)
2 x RBU-1000 300 mm anti-submarine rocket launcher

Aircraft Carried: 1 x Kamov Ka-27 "Helix"
SVK Sovremennyy
SVK Otchayanny
SVK Otlichnyy
SVK Osmotritelnyy
SVK Bezuprechnyy
SVK Boyevoy
SVK Stoykiy
SVK Okrylennyy
SVK Burnyy
SVK Bystryy
SVK Rastoropnyy
SVK Bezboyaznennyy
SVK Gremyashchiy
SVK Bezuderzhnyy
SVK Bespokoynyy
SVK Nastoychivyy
SVK Besstrashnyy
SVK Buynyy
SVK Vechnyy
SVK Vnushitelnyy
SVK Vazhnyy
SVK Vdumchivyy
Community content is available under
CC-BY-SA
unless otherwise noted.