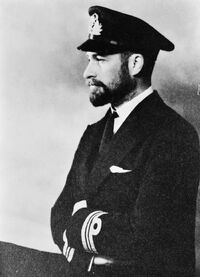 Captain Stephen Halden Beattie VC (29 March 1908 – 20 April 1975) 'Sam' Beattie was born at Leighton, Montgomery and educated at Rugby. He joined the Royal Navy in 1925. Beattie was a recipient of the Victoria Cross, the highest and most prestigious award for gallantry in the face of the enemy that can be awarded to British and Commonwealth forces.
In March 1941, Beattie was in command of the F-class destroyer HMS Fearless (H67) and the 23rd Escort Flotilla.[1]
In mid 1941, Beattie and the Fearless would be assigned to operations in the Mediterranean against the Regia Marina.[2]
In November 1941, Sam Beattie would be reassigned to the light cruiser Belfast.[3]
After World War II, Sam Beattie would be in command of Royal Navy's Japan Squadron for a indeterminate number of years before returning to India and later the United Kingdom. By 1963, Beattie would become First Sea Lord.[4]
References
[
]