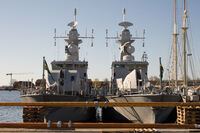 The Stockholm-class corvettes are a pair of corvettes in the Swedish Navy. Built in Karlskrona 1984–1985, they are armed with eight RBS15 anti-ship missiles, torpedoes, one 57mm cannon and several machine guns. In 1999/2000 the two units in the class were upgraded in the Karlskrona shipyard Kockums. The upgrade included new engines, sensors, stealth technology, and navigation systems, the goal being to bring the technology up to the same level as the Visby-class.
Type: Corvette
Service Period: 1986-Present
Characteristics:

Length: 164 feet .5 inches (50 meters)
Beam: 24 feet 7.275 inches (7.5 meters)
Draft: 8 feet 6.364 inches (2.6 meters)
Displacement: 420 tons

Crew: 35
Propulsion: 2 x MTU diesel engines (1920kW), 1 x Allied Signal Gas turbine (4715kW)
Speed: 30 knots (55.56 km/hr)
Sensor Suite:

Sea Giraffe 50HC air/surf search RDF
9LV 300 missile control RDF
SS304 Spira HMS ASDIC
TSM 2642 MF VDS ASDIC

Countrmeasures

Elisra M275 Frequency Agile Electronic Warfare Suite
Rheinmetall TKWA/MASS (Multi Ammunition Softkill System)

Armament

1 x Bofors 57mm Mk.II naval gun
8 x RBS.15 AShMs
4 x 400 mm tubes for Type 43/45 torpedoes
4 x ELMA Antisubmarine grenade throwers
Mines & Depth charges
HSwMS Stockholm (K11)
HSwMS Malmö (K12)
Community content is available under
CC-BY-SA
unless otherwise noted.