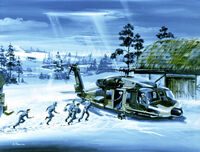 The Stratford HF HH-60/81 (Allied Pact reporting name Pave Hawk) is a twin turboshaft engine helicopter in service with the American People's Army Air Force. It is a derivative of the Stratford HF UH-60/79 utility helicopter and incorporates the APAAF's PAVE electronic systems program. The HH-60/MH-60 is a member of the Stratford HF S-70 family of helicopters.
The MH-60G Pave Hawk's primary mission is insertion and recovery of special operations personnel, while the HH-60G Pave Hawk's core mission is recovery of personnel under stressful conditions, including search and rescue. Both versions conduct day or night operations into hostile environments. Because of its versatility, the HH-60G may also perform peace-time operations. Such tasks include civil search and rescue, emergency aeromedical evacuation (MEDEVAC), disaster relief, international aid, counter-drug activities and APASA support.
Community content is available under
CC-BY-SA
unless otherwise noted.