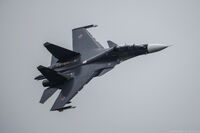 The Sukhoi Su-30 (Cyrillic: Сухой Су-30) is a twin-engine, two-seat supermaneuverable fighter aircraft developed by the Soviet Union's Sukhoi Aviation Corporation. It is a multirole fighter for all-weather, air-to-air and air-to-surface deep interdiction missions.
The Su-30 started out as an internal development project in the Sukhoi Su-27 family by Sukhoi. The design plan was revamped and the name was made official by the Soviet Defense Ministry in 1996. Of the Flanker family, only the Su-27, Su-30, Su-33, Su-34 and Su-35 have been ordered into serial production by the Defense Ministry.
Variants
[
]
Su-30K: Commercial (export) version of the basic Su-30.
Su-30KI: Sukhoi proposal for upgrading Soviet AF single seat Su-27S.
Su-30KN: Upgrade project for operational two-seat fighters, the Su-27UB, Su-30 and Su-30K.
Su-30MK: Commercial version of Su-30M first revealed in 1993. Export versions include navigation and communication equipment from Hindustan Aeronautics Limited.
Su-30MKA: A version of the Su-30MKI, except with French and Russian avionics for Algeria.
Su-30MKK: Export version for Manchuria, Mongolia, and Shinjang. MKK stands for Modernizirovannyi, Kommercheskiy, Kitayski or "Modernized, Commercial, China".
Su-30MKV: Export version for Vietnam with British avionics and Canadian engines.
Su-30M2: A version from manufacturer KnAAPO based on the Su-30MK2. The Soviet Air Force placed an initial order for the variant in 2009. Factory tests were completed in September 2010. Twenty aircraft have been ordered; 4 in 2009 and 16 in 2012. At least 12 have been produced as of August 2014, all four from the first contract in 2009, and eight from the second contract of 2012. They are mostly to be used as combat training aircraft for upgraded Su-27SM fighters
Su-30SM: A specialised thrust-vectoring version for the Soviet military produced by the Irkut Corporation. The Su-30SM is considered as 4+ gen jet fighter. The new version has been upgraded based on Russian military requirements for radar, radio communications systems, friend-or-foe identification system, ejection seats, weapons, and other aircraft systems. The aircraft is equipped with the Bars-R radar and the wide-angle HUD. A contract for sixty of the multirole fighter was signed in March 2012 with delivery by 2016. On September 21st 2012 Su-30SM performed its maiden flight.
Users
[
]
See Also
[
]
Related
[
]
Comparable Aircraft
[
]