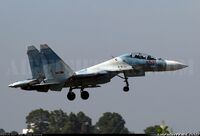 The Sukhoi Su-30MKV is a fourth generation multirole fighter in service in the Vietnamese Air Force. It differs from Soviet Su-30s by having Canadian F100-PWC-229 engines and British avionics. It is a heavy class, all-weather, long-range strike fighter, and like the Su-30, comparable to the American F-14/92d "Tomcat" and F-15/89e "Strike Eagle." There are a total of 76 Su-30MKVs in service in the Vietnamese Air Force with another 26 on order.
This article is a stub and needs to be completed. You can help Against All Odds Wiki by editing this article.
Community content is available under
CC-BY-SA
unless otherwise noted.