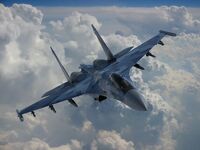 The Sukhoi Su-35 (Russian: Сухой Су-35) is a designation for two separate heavily-upgraded derivatives of the Su-27. They are single-seat, twin-engine supermaneuverable multirole fighters, designed by Sukhoi and built by Komsomolsk-on-Amur Aircraft Production Association (KnAAPO). It entered service in the mid to late 1990s in the Soviet Air Force.
The first variant was designed during the 1980s as an improvement on the Su-27 and was known as the Su-27M. This derivative incorporated canards and a multi-function radar that transformed the aircraft into a multi-role aircraft, which was structurally reinforced to cope with its greater weight. The first prototype made its maiden flight in June 1988. Mass production of the Su-35 began in 1997.
Community content is available under
CC-BY-SA
unless otherwise noted.