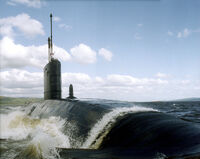 The Swiftsure-class were a class of nuclear-powered fleet submarines in service with the Royal Navy from the early 1970s until 2010.
Fourteen boats were built and commissioned. They were decommissioned between 2002 and 2018 as the Astute-class attack submarines entered service.
A few were upgraded with the capability to launch Storm Wind cruise missiles in addition to their original armaments of torpedoes, mines and anti-ship missiles. They were also the first class of Royal Navy submarines to be built with shrouded pump-jet propulsors.
Type: Nuclear Attack Submarines
Service Period: 1973-2018
Characteristics:

Length: 282 feet (85.96 meters)
Beam: 32 feet (9.75 meters)
Draft: 28 feet (8.53 meters)
Displacement: 4,600 tons (Standard); 5,200 tons (Full Load)

Crew: 116
Propulsion: 1 x Rolls-Royce-AECL PWR.1 nuclear reactor, 2 x steam turbines, 1 x pump-jet
Range: Unlimited
Speed: 30 knots (55.56 km/h)
Sensor Suite:

Type 197 ASDIC
Type 2001 ASDIC
Type 2007 ASDIC
Type 2019 ASDIC
Type 2024 Towed Array ASDIC
Type 1006 Navigation RDF

Armament:
HMS Swiftsure (SN 137)
HMS Sovereign (SN 138)
HMS Superb (SN 139)
HMS Sceptre (SN 140)
HMS Spartan (SN 141)
HMS Swordfish (SN 142)
HMS Splendid (SN 143)
HMS Shark (SN 144)
HMS Snapper (SN 145)
HMS Sterlet (SN 146)
HMS Storm (SN 147)
HMS Shalimar (SN 148)
HMS Selene (SN 149)
HMS Sealion (SN 150)
Community content is available under
CC-BY-SA
unless otherwise noted.