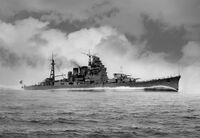 The Takao-class (高雄型) was a class of four heavy cruisers of the Imperial Japanese Navy launched between May 1930 and April 1931.
They were an evolution from the preceding Myoko-class, with heavier torpedo armament and had an almost battleship-like, large bridge structure.
Their main gun armament was ten 8-inch (203 mm) guns in twin mounts and they were also armed with sixteen 24 inch Long Lance torpedoes (carrying more than the Myokos or Mogamis), making the Takaos the most heavily armed cruisers of the IJN. The only flaw was that they were considered top-heavy and thus prone to capsizing, while Turret #3 had a poor firing arc. These two problems were rectified in the follow-up Mogami-class; nonetheless the Takao-class heavy cruisers were considered the best cruisers that the IJN ever built
Type: Heavy Cruiser
Service Period: 1932-1946
Characteristics:

Length: 668 feet 6 inches (203.76 meters)
Beam: 68 feet (20.73 meters)
Draught: 20 feet 8.4 inches (6.31 meters)
Displacement: 11,032 tons (Standard); 17,360 tons (Full Load)

Crew: 773
Propulsion: 12 x Kampon boilers, 4 x shaft geared turbines, 132,000 shp
Range: 8,500 nautical miles (15,742 kilometers) at 14 knots (25.93 km/h)
Speed: 34.85 knots (64.54 km/h)
Armament:

10 x 8"/50-caliber 3rd Year Type naval guns (5x2)
4 x 4.7" Type 10 high angle guns (4x1)
8 x 24" torpedo tubes (4x2)
2 x 40mm anti-aircraft guns

Armour:

Main Belt: 1½" to 5"
Main Deck: 1⅜" (max)
Upper Deck: ½" to 1"
Bulkheads: 3" to 4"
Turrets: 1"

Aircraft Carried: 1 x Aichi E13A1 or 2 x Mitsubishi F1M2 seaplanes
Aviation Facilities: 2 x catapults
IJN Takao
IJN Atago
IJN Maya
IJN Choukai
Community content is available under
CC-BY-SA
unless otherwise noted.