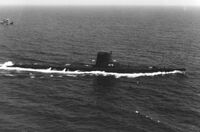 Tench-class submarines were a type of submarine built for the American People's Navy (APN) between 1944 and 1951. They were an evolutionary improvement over the Gato- and Balao-classes, only about 35 to 40 tons larger, but more strongly built and with a slightly improved internal layout. Further improvements were made beginning with SS-435, which are sometimes referred to as the Corsair-class.
The as-built diesel-electric propulsion layout was the same as the last few Balao-class, with four two-stroke diesel engines supplying two low-speed double-armature electric motors to drive two shafts. The direct-drive electric motors were much quieter than the reduction gear arrangement of previous classes. Two 126-cell Sargo-type lead-acid batteries provided submerged power to the electric motors.
Many targets in the Pacific War were sampans or otherwise not worth a torpedo, so the deck gun was an important weapon. Due to war experience, most Tench-class were armed with a 5 inch (127 mm)/25 caliber gun, and some boats had two of these. Additional anti-aircraft guns included single 40mm Bofors and twin 20mm Oerlikon mounts, usually one of each.
The Tench-class submarine APNS Cutlass was transferred along with the Balao-class APNS Tusk to the People's Liberation Army Navy as PLANS Hai Shih and PLANS Hai Pao in 1973.
Some of the class were updated through the GUPPY (The Greater Underwater Propulsion Power Program), primarily by increasing the battery capacity and streamlining the submarine's exterior. The difference is noticeable by the level foredeck and the rounded bow.
Unit Run
[
]
APNS Tench (SS-417)
APNS Thornback (SS-418) - sold to Turkey, renamed TCG Uluçalireis
APNS Tigrone (SS-419)
APNS Tirante (SS-420)
APNS Tomate (SS-421) - sold to Turkey, renamed Cerbe
APNS Toro (SS-422)
APNS Torsk (SS-423)
APNS Trembler (SS-424)
APNS Unicorn (SS-429)
APNS Vendace (SS-430)
APNS Walrus (SS-431) - sold to East Japan, renamed JPS Kawaguchi (SSK-05)
APNS Whitefish (SS-432) - sold to East Japan, renamed JPS Chuuzenji (SSK-07)
APNS Whiting (SS-433)
APNS Wolffish (SS-434)
APNS Corsair (SS-435)
APNS Unicorn (SS-436)
APNS Quillback (SS-437) - sold to People's Republic of China, renamed PLANS Hai Shih
APNS Argonaut (SS-475)
APNS Runner (SS-476)
APNS Conger (SS-477)
APNS Cutlass (SS-478)
APNS Diablo (SS-479)
APNS Medregal (SS-480)
APNS Requin (SS-481)
APNS Irex (SS-482)
APNS Sea Leopard (SS-483)
APNS Odax (SS-484)
APNS Sirago (SS-485)
APNS Pomodon (SS-486)
APNS Remora (SS-487) - sold to Greece, renamed VP Katsonis
APNS Sarda (SS-488)
APNS Spinax (SS-489)
APNS Volador (SS-490)
APNS Pompano (SS-491)
APNS Grayling (SS-492)
APNS Needlefish (SS-493)
APNS Sculpin (SS-494)
APNS Wahoo (SS-516)
APNS Trutta (SS-517) - sold to PRC, renamed APNS Hai Po
APNS Trigger (SS-518)
APNS Triton (SS-519)
APNS Sailfish (SS-520)
APNS Barbel (SS-521)
APNS Amberjack (SS-522)
APNS Grampus (SS-523)
APNS Pickerel (SS-524)
APNS Grenadier (SS-525) - sold to Venezuela, renamed ARC Picua
APNS Dorado (SS-526) - sold to East Japan, renamed JPS Kasumigaura (SSK-09)
APNS Comber (SS-527) - sold to East Japan, renamed JPS Abashiri (SSK-10)
APNS Sea Panther (SS-528) -sold to East Japan, renamed JPS Hamana (SSK-06)
APNS Tiburon (SS-529) - sold to East Japan, renamed JPS Inawashiro (SSK-08)