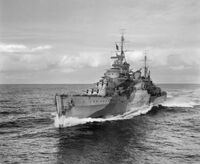 The Town-class light cruiser (also referred to as the Southampton-class) is a class of several light cruisers in service in the Australian, Polish and Royal Navies from the 1930s and 1940s. The Town-class cruiser were designed to the constraints imposed by the London Naval Treaty of 1930. The ships were built in three distinct sub-classes, the Southampton, Gloucester and Edinburgh classes respectively, each sub-class adding on further weaponry.
The Town-class cruisers were also the first British cruisers to not be armed with torpedo tubes.
Before the war, Australia would build six of the Edinburgh-subclass for the RAN. Two Town-class cruisers were also built in the 1940s for the Polish Navy in exile.
Specifications
[
]
Southampton-subclass

[

]
Type: Light Cruiser
Service Period: 1937-1959
Characteristics:

Length: 591 feet 7.2 inches (180.32 meters)
Beam: 62 feet 3.6 inches (18.99 meters)
Draught: 20 feet 7.2 inches (6.28 meters)
Displacement: 9,100 tons (Standard); 11,350 tons (Full Load)

Crew: 748
Propulsion: 4 x Admiralty 3-drum boilers, 4 x Parsons shaft geared turbines, 75,000 shp
Range: 5,300 nautical miles (9,816 kilometers) at 13 knots (24.08 km/h)
Speed: 32 knots (59.26 km/h)
Armament:

12 x BL 6"/50-caliber Mk.XXIII naval guns
8 x QF 4"/45-caliber Mk.XVI dual purpose naval guns
32 x QF 2pdr Mk.VIII anti-aircraft guns - replaced by Bofors 40mm/60-caliber anti-aircraft guns

Armour:

Main belt: 4.5 inches (114 mm)
Main turrets: 4 inches (102 mm)
Decks over magazines: 3 inches (76 mm)
Decks over machinery: 2 inches (51 mm)
Bulkheads: 2.5 inches (63.5 mm)

Aircraft Carried: 2 x Supermarine Walrus flying boats
Aviation Facilities: 1 x catapult
Gloucester-subclass

[

]
Type: Light Cruiser
Service Period: 1937-1959
Characteristics:

Length: 591 feet 7.2 inches (180.32 meters)
Beam: 64 feet 10.inches (19.76 meters)
Draught: 20 feet 7.2 inches (6.28 meters)
Displacement: 9,400 tons (Full Load); 11,930 tons (Full Load)

Crew: 800
Propulsion: 4 x Admiralty 3-drum boilers, 4 x Parsons shaft geared turbines, 82,500 shp
Range: 5,300 nautical miles (9,816 kilometers) at 13 knots (24.08 km/h)
Speed: 32.25 knots (59.73 km/h)
Armament:

12 x BL 6"/50-caliber Mk.XXIII naval guns
8 x QF 4"/45-caliber Mk.XVI dual purpose naval guns
32 x QF 2pdr Mk.VIII anti-aircraft guns - replaced by Bofors 40mm/60-caliber anti-aircraft guns

Armour:

Main belt: 4.5 inches (114 mm)
Main turrets: 4 inches (102 mm)
Decks over magazines: 3 inches (76 mm)
Decks over machinery: 2 inches (51 mm)
Bulkheads: 2.5 inches (63.5 mm)

Aircraft Carried: 2 x Supermarine Walrus flying boats
Aviation Facilities: 1 x catapult
Edinburgh-subclass

[

]
Type: Light Cruiser
Service Period: 1937-1959
Characteristics:

Length: 613 feet 7.2 inches (187.03 meters)
Beam: 64 feet 10.8 inches (19.78 meters)
Draught: 22 feet 7.2 inches (6.89 meters)
Displacement: 10,420 tons (Standard); 13,175 tons (Standard)

Crew: 831
Propulsion: 4 x Admiralty 3-drum boilers, 4 x Parsons shaft geared turbines, 82,500 shp
Range: 8,664 nautical miles (16,046 kilometers) at 13 knots (24.08 km/h)
Speed: 32.25 knots (59.73 km/h)
Armament:

12 x BL 6"/50-caliber Mk.XXIII naval guns
12 x QF 4"/45-caliber Mk.XVI dual purpose naval guns
32 x QF 2pdr Mk.VIII anti-aircraft guns - replaced by Bofors 40mm/60-caliber anti-aircraft guns

Armour:

Main belt: 4.5 inches (114 mm)
Main turrets: 4 inches (102 mm)
Decks over magazines: 3 inches (76 mm)
Decks over machinery: 2 inches (51 mm)
Bulkheads: 2.5 inches (63.5 mm)

Aircraft Carried: 2 x Supermarine Walrus flying boats
Aviation Facilities: 1 x catapult
Unit Run
[
]
[

]
Southampton variant

[

]
HMS Birmingham (C19)
HMS Glasgow (C21)
HMS Sheffield (C24)
HMS Newcastle (C76)
HMS Southampton (C83)
Gloucester Variant

[

]
HMS Liverpool (C11)
HMS Manchester (C15)
HMS Gloucester (C62)
Edinburgh variant

[

]
[

]
HMAS Hamilton (D86)
HMAS Brisbane (D87)
HMAS Newcastle (D88)
HMAS Darwin (D89)
HMAS Alice Springs (D90)
HMAS Cooktown (D91)
[

]