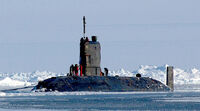 The
Trafalgar-class
is a class of nuclear-powered submarines in service with the major members of the
British Commonwealth
. They are a direct follow-up to the
Swiftsure-class
and were, until the introduction of the
Astute-class
, the Royal Navy's most advanced submarines.
With thirty-four boats in commission, they form the core of the nuclear powered hunter-killer submarine forces of the British, Canadian and Australian navies. Most submarines in the class have been fitted with the ASDIC 2076 system, which the Royal Navy describes as the most advanced ASDIC in service with any navy in the world.
Specifications
Edit
Type: Nuclear Submarine (SN)
Service Period: 1985-Present
Characteristics

Length: 326 feet (99.37 meters)
Width: 32 feet (9.75 meters)
Draught: 31 feet (9.45 meters)
Displacement: 5,500 tons (Surfaced); 6,100 tons (Submerged)

Crew: 130 (24 officers and 106 enlisted)
Power Plant

1 x AECL-Rolls Royal PWR1 nuclear reactor
2 x Western Electric steam turbines
2 x WH Allen turbo generators; 3.2 MW
2 x Paxman diesel alternators 2,800 shp (2.1 MW)
1 x pump jet propulsion
1 x motor for emergency drive
1 x auxiliary retractable prop

Sensor Suite

Ferranti/Gresham Dowty DCB/DCG or BAE Systems SMCS data system
Type 2072 hull-mounted flank array passive ASDIC
Plessey Type 2020 or Marconi/Plessey Type 2074 hull-mounted active and passive search and attack ASDIC
Ferranti Type 2046 or Thales Underwater Systems 2076 towed array passive search ASDIC
Thomson Sintra Type 2019 PARIS or Thorn EMI 2082 passive intercept and ranging ASDIC
Marconi Type 2077 short range active classification ASDIC
Kelvin Hughes Type 1007 I band navigation radar
Pilkington Optronics CK34 search periscope
Pilkington Optronics CH84/CM010 attack periscope

Armament

6 x 533mm torpedo tubes (fires Spearfish heavyweight torpedoes)
1 x 12-cell VLS (fires Broadsword and Storm Wind missiles)
HMS Trafalgar (SN 175)
HMS Turbulent (SN 176)
HMS Tireless (SN 177)
HMS Torbay (SN 178)
HMS Trenchant (SN 179)
HMS Talent (SN 180)
HMS Triumph (SN 181)
HMS Tiger (SN 182)
HMS Temeraire (SN 183)
HMS Theseus (SN 184)
HMS Thunderer (SN 185)
HMS Taurus (SN 186)
HMS Terror (SN 187)
HMS Torrential (SN 188)
HMS Tracker (SN 189)
HMS Tenacious (SN 190)
HMS Thresher (SN 191)
HMS Tigershark (SN 192)
HMS Tornado (SN 193)
HMS Talisman (SN 194)
HMS Threat (SN 195)
HMS Tetrarch (SN 196)
HMS Tempest (SN 197)
HMS Tarpon (SN 198)
HMS Tigris (SN 199)
HMS Thistle (SN 200)
HMS Trooper (SN 201)
HMS Triton (SN 202)
HMS Tuna (SN 203)
HMS Thor (SN 204)
HMS Trusty (SN 205)
HMS Terpsichore (SN 206)
HMAS Collins (SN A73)
HMAS Farncomb (SN A74)
HMAS Waller (SN A75)
HMAS Sheean (SN A77)
HMAS Rankin (SN A78)
HMAS Harrington (SN A79)
HMAS Sinclair (SN A80)
HMCS Ontario (SN C15)
HMCS Okanagan (SN C16)
HMCS Ojibwa (SN C17)
HMCS Oshawa (SN C18)
HMCS Onondaga (SN C19)
HMCS Oriflamme (SN C20)
HMCS Oceanic (SN C21)
HMCS Odyssey (SN C22)
Community content is available under
CC-BY-SA
unless otherwise noted.