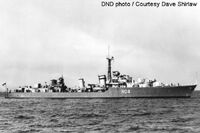 The Tribal- or Afridi-class, were a class of destroyers built for the Royal Navy, Royal Canadian Navy and Royal Australian Navy that saw service in World War II. Originally conceived as a failed design for a light fleet cruiser, the Tribals evolved into fast, powerful destroyers, with greater emphasis on guns over torpedoes than previous destroyers, in response to new designs by Japan, Italy, and Germany. The Tribals were well admired by their crews and the public when they were in service due to their power, often becoming symbols of prestige while in service.
As some of the Royal Navy's most modern and powerful escort ships, the Tribal-class served with distinction in nearly all theatres of World War II. After the war, the surviving Royal Navy Tribals were sold to other navies, where they served into the 1970s, while Commonwealth Tribals were retained until the early 1960s. Only one Tribal-class survives to this day: HMCS Haida, which is now a museum ship in Hamilton Harbour, Ontario, Canada.
Type: Destroyer
Service Period: 1938-1974
Characteristics:

Length: 380 feet (115.82 meters)
Beam: 37 feet 6 inches (11.43 meters)
Draught: 13 feet (3.96 meters)
Displacement: 2,000 tons (Standard); 2,660 tons (Full Load)

Crew: 200
Propulsion: 3 x Admiralty 3-drum boilers, 2 Parsons steam turbines, 2 shafts, 44,000 shp (33,000 kW)
Range: 5,700 nautical miles (10,560 kilometers) at 15 knots (27.78 km/h)
Speed: 36 knots (66.67 km/h)
Sensor Suite:

Type 268 Target Indication and Navigation RDF
Type 271 Surface Warning RDF
Type 285 Anti-Aircraft Fire Control RDF
Type 291 Air Warning RDF
Type 144 ASDIC
Type 144Q ASDIC
Type 147F ASDIC

Armament:

8 x QF 4.7"/45-caliber Mk.XII dual purpose naval guns (4x2)
16 x QF 2-pdr anti-aircraft guns (4x4)
32 x Vickers .50-caliber Mk.III machine guns (8x4)
8 x Bofors 40mm anti-aircraft guns (4x2)
8 x Oerlikon 20mm anti-aircraft cannons (4x2)
4 x 21-inch torpedo tubes
1 x depth charge rack, 2 x depth charge catapults
HMS Afridi
HMS Ashanti
HMS Bedouin - sold to Turkey, renamed TCG Gaziantep (D-344)
HMS Cossack
HMS Eskimo - sold to Turkey, renamed TCG Gelibolu (D-346)
HMS Gurkha
HMS Maori - sold to Turkey, renamed TCG Giresun (D-345)
HMS Mashona - sold to West Japan, renamed RJS Hatakaze (DD-102)
HMS Matabele
HMS Mohawk - sold to Turkey, renamed TCG Gemlik (D-347)
HMS Nubian - sold to West Japan, renamed RJS Asakaze (DD-101)
HMS Punjabi - sold to Greece, renamed VP Keravnos (D-19)
HMS Sikh
HMS Somali
HMS Tartar
HMS Zulu - sold to Greece, renamed VP Nea Genea (D-20)
HMAS Arunta
HMAS Warramunga
HMAS Kurnai
HMAS Chingilli
HMAS Bataan
HMAS Mitaka
HMAS Baradha
HMAS Kuwarra
HMAS Larrakia
HMAS Rembarnga
HMAS Banjima
HMAS Irukandji
HMAS Bakanambia
HMAS Pangkala
HMAS Arakwal
HMAS Wongkumara
HMCS Athabaskan (D212)
HMCS Nootka (D213)
HMCS Micmac (D214)
HMCS Haida (D215)
HMCS Huron (D216)
HMCS Iroquois (D217)
HMCS Cayuga (D218)
HMCS Algonquin (D219)
HMCS Sioux (D220)
HMCS Esquimalt (D221)
HMCS Comox (D222)
HMCS Salish (D223)
HMCS Seneca (D224)
HMCS Blackfoot (D225)
HMCS Maliseet (D226)
HMCS Salteaux (D227)
ROCS Gui Yang (DD-897)
ROCS Qing Yang (DD-898)
ROCS An Yang (DD-899)
ROCS Kun Yang (DD-900)
Community content is available under
CC-BY-SA
unless otherwise noted.