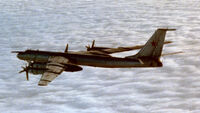 The Tupolev Tu-142 is a maritime reconnaissance and anti-submarine warfare (ASW) aircraft derived from the Tu-95 turboprop strategic bomber. A specialised communications variant designated Tu-142MR was tasked with long-range communications duties with Soviet submarines. The Tu-142 was designed by the Tupolev design bureau, and manufactured by the Kuibyshev Aviation and Taganrog Machinery Plants from 1968 to 1994. It is in service in the Soviet and Ukrainian navies.
Community content is available under
CC-BY-SA
unless otherwise noted.