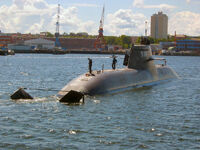 The Type 212, known in Italy as the Todaro-class and in Canada as the Greenwich-class, is a highly advanced diesel-electric submarine class developed in Germany by Howaldtswerke-Deutsche Werft AG (HDW) and currently in service with the German, Italian and Canadian navies. It features diesel propulsion and an additional air-independent propulsion (AIP) system using Siemens proton exchange membrane (PEM) hydrogen fuel cells. The submarine can operate at high speed on diesel power or switch to the AIP system for silent slow cruising, staying submerged for up to three weeks without surfacing and with no exhaust heat. The system is also said to be vibration-free, extremely quiet and virtually undetectable.
Type 212 is the first of the only two fuel cell propulsion system-equipped submarines ready for series production by 2007, the other being the Leningrad-class submarine designed by the Soviet Rubin Design Bureau.
Type: Diesel-electric submarine (S)
Crew: 27 (5 officers and 22 enlisted)
Characteristics:

Length: 56 m (183.7 ft) (212A), 57.2 m (187.66 ft) (212B)
Width: 7 m (22.96 ft)
Draught: 6 m (19.68 ft)
Displacement: 1,450 tonnes surfaced, 1,830 tonnes submerged
Speed: 20 knots (37 km/h) submerged, 12 knots surfaced
Depth: over 700 m (2,296 ft)
Range: 8,000 nautical miles (14,800 km or 9,196 miles) at 8 knots (15 km/h)
Endurance: 3 weeks without snorkeling, 12 weeks overall

Propulsion:

1 MTU 16V 396 diesel-engine
9 HDW/Siemens PEM fuel cells, 30–40 kW each (212A)
2 HDW/Siemens PEM fuel cells, 120 kW each (212B)
1 Siemens Permasyn electric motor, 1700 kW, driving a single seven-bladed skewback propeller

Sensors:

STN Atlas DBQS40 ASDIC suite:

TAS-3 passive low-frequency towed array ASDIC (deployed from sail)
FAS-3 passive low-, and medium-frequency hull-mounted flank array ASDIC
MOA 3070 mine detection ASDIC

Periscopes:

Carl Zeiss SERO 14, with FLIR and optical rangefinder
Carl Zeiss SERO 15, with laser rangefinder

Riva Calzoni periscope masts and snorkeling systems
Kelvin Hughes Type 1007 I band navigation RDF
EADS FL 1800U ESM suite
WASS hydrophones
Avio GAUDI autopilot and hydraulic systems
Kongsberg MSI-91 combat system

Armament:

6 x 533 mm torpedo tubes with 13 torpedoes or 24 tube mines
IDAS missiles
24 external naval mines (optional)

Countermeasures:

Torpedo defence system Tau, 4 launchers, 40 jammers/decoys
BMS U-31 (S181)
BMS U-32 (S182)
BMS U-33 (S183)
BMS U-34 (S184)
BMS U-35 (S185)
BMS U-36 (S186)
BMS U-37 (S187)
BMS U-38 (S188)
BMS U-39 (S189)
BMS U-40 (S190)
BMS U-41 (S191)
BMS U-42 (S192)
BMS U-43 (S193)
BMS U-44 (S194)
BMS U-45 (S195)
BMS U-46 (S196)
BMS U-47 (S197)
BMS U-48 (S198)
RM Salvatore Todaro (S526)
RM Scirè (S527)
RM Pietro Venuti (S528)
RM Romeo Romei (S529)
RM Marcantonio Colonna (S530)
RM Dante Alighieri (S531)
HMCS Greenwich (S C23)
HMCS Lethbridge (S C24)
HMCS Eastview (S C25)
HMCS Springhill (S C26)
HMCS Nanaimo (S C27)
HMCS London (S C28)
HMCS Red Deer (S C29)
HMCS Chicoutimi (S C30)
HMCS Swift Current (S C31)
HMCS Corner Brook (S C32)
HMCS Windsor (S C33)
HMCS Sherbrooke (S C34)
Community content is available under
CC-BY-SA
unless otherwise noted.