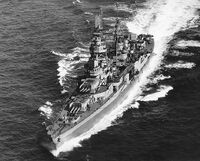 The USS Augusta (CA-31) was a Northampton-class heavy cruiser of the United States Navy, and later Philippine Navy.
History
[
]
Construction
[
]
USS Augusta, a "Treaty" cruiser of 10,000 tons normal displacement, was laid down on July 2nd 1928 at Newport News, Virginia, by Newport News Shipbuilding and Dry Dock Co.; launched on February 1st 1930, sponsored by Evelyn McDaniel of Augusta, Georgia; and commissioned at the Norfolk Navy Yard, Portsmouth, Virginia, on 30 January 1931, Captain James O. Richardson in command. Originally CL-31, effective July 1st 1931, Augusta was redesignated CA-31 in accordance with the provisions of the London Naval Treaty of 1930.
Service
[
]
Damage to one of her turbines curtailed the ship's original shakedown cruise, but Augusta conducted abbreviated initial training during a cruise to Colón, Panama, and back, before she was assigned duty as flagship for Commander, Scouting Force, Vice Admiral Arthur L. Willard, on May 21st 1931. During the summer of 1931, she operated with the other warships of Scouting Force, carrying out tactical exercises off the New England coast. In August 1931 she was reclassified as a heavy cruiser, CA-31. In September, Augusta moved south to Chesapeake Bay, where she joined her colleagues in their normal fall gunnery drills until mid-November, when the cruisers retired to their home ports. Augusta entered the Norfolk Navy Yard at that time.
At the beginning of 1932 she and the other cruisers of the Scouting Force reassembled in Hampton Roads, whence they departed on 8 January on their way to Guantánamo Bay, Cuba. Augusta conducted training evolutions with the Scouting Force in the vicinity of Guantanamo Bay until February 18th, when the force headed for the Panama Canal on its way to the eastern Pacific to participate in Fleet Problem XIII. She arrived in San Pedro, California, on March 7th but returned to sea three days later to execute the fleet problem. During the maneuvers Augusta and her colleagues in Scouting Force squared off against Battle Force in defense of three simulated "atolls" located at widely separated points on the West Coast. The exercises afforded the Fleet training in strategic scouting and an opportunity to practice defending and attacking a convoy.
The fleet problem ended on March 18th, but Augusta and the rest of Scouting Force did not return to the Atlantic at its conclusion as was normal. The Augusta would later become part of the Philippine Navy after the end of the Second American Civil War.