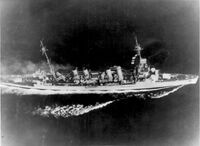 USS Marblehead (CL-12) was an Omaha-class light cruiser of the United States Navy. She was the third Navy ship named for the town of Marblehead, Massachusetts.
Marblehead was laid down on August 4th 1920 by William Cramp and Sons, Philadelphia, Pennsylvania; launched on October 4th 1923; sponsored by Mrs. Joseph Evans; and commissioned on September 8th 1924, Captain Chauncey Shackford in command.
After commissioning, Marblehead departed Boston for shakedown in the English Channel and Mediterranean. In 1925, she visited Australia, stopping en route in the Samoan and Society Islands and, on her return, in the Galápagos Islands. A year after her return, Marblehead was underway again on an extended voyage. Early in 1927, she cruised off Bluefields and Bragman's Bluffs, Nicaragua, her mission there to aid American efforts to bring together and reconcile the various political factions then fighting in that country. With one exception, Augusto César Sandino, faction leaders agreed to the terms of the Peace of Tipitapa on May 4th, 1927, and the United States was requested to supervise elections in 1928.
Marblehead next sailed for Pearl Harbor, where she joined USS Richmond (CL-9) and USS Trenton (CL-11) and headed for Shanghai, China. Upon arrival there she contributed to the show of force aimed at the protection of American and other foreign nationals of Shanghai's international settlement during operations against that city through the summer of 1927 in China's civil war.
In addition to her stay at Shanghai, Marblehead spent two months up the Yangtze River at Hankow, and visited several Japanese ports before leaving the Far East in March 1928. En route home, the cruiser stopped at Corinto, Nicaragua to assist in the preparations for elections under the Peace of Tipitapa, delaying her return to Boston until August.
During the Second American Civil War, the Marblehead was sunk covering the retreat of the Loyalist US Naval forces during the Battle of San Francisco.[1]
References
[
]