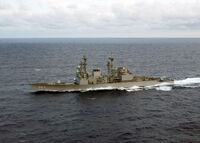 The Vigilant-class destroyer were a class of multirole destroyer was developed by the UAPR to replace a large number of World War II-built Allen M. Summer and Gearing-class destroyers, and was the primary destroyer built for the U.S. Navy during the 1970s. Both the Superb and Crown Point-class ships are based on the Vigilant-class design. The Vigilant class was the first American destroyer class to break with the tradition of naming destroyers after important military figures, a tradition carried over from the pre-Second American Civil War US Navy.
Serving for three decades, the Vigilant-class was designed to escort a carrier group with a primary ASW mission. First commissioned in 1975, the class was designed with gas-turbine propulsion, all-digital weapons systems, automated 5-inch guns and Tomahawk cruise missiles. A few nations including Argentina, East Japan, Iran, Mexico and Peru have license built their own Vigilant-class destroyers.
The Vigilant class are the OTL Spruance-class destroyers.
Specifications
[
]
Role: Destroyer (Hull designation symbol DD)
Service Period: 1975-2005
Dimensions

Length: 564.3 feet (172 meters)
Beam: 55.1 feet (16.8 meters)
Draught: 28.9 feet (8.8 meters)
Displacement: 9,200 tons

Crew Complement: 334 (19 officers and 315 enlisted)
Propulsion: 4 x Gas Turbines, 2 x shafts
Range: 6,000 nautical miles (11,000 km; 6,900 mi) at 20 knots (37 km/h; 23 mph), 3,300 nautical miles (6,100 km; 3,800 mi) at 30 knots (56 km/h; 35 mph)
Speed: 32.5 Knots (37.4 Miles/Hour; 60.19 Kilometers/Hour)
Sensor Suite

AN/SPQ-9 Gunfire Control Radar
AN/SQR-19 Towed Array Passive Sonar
AN/SPS-40 Air Search Radar
AN/SQS-53 Bow Mounted Active Sonar
AN/SPS-55 Surface Search Radar
AN/SPG-60 Fire Control Radar

Electronic Warfare and Countermeasures

AN/SLQ-25 Nixie Torpedo Countermeasures
AN/SLQ-32 Electronic Warfare Suite
AN/SLQ-49 Inflatable Decoys
Mark 36 SRBOC Decoy Launcing System

Armament

1 x 5"/54-caliber Mk.45 Mod 0/1/2 lightweight naval gun
1 x 8-cell ASROC Missile Launcher (fires RUR-5 ASROC ASW Missiles)
2 x 4-cell Mk.141 Harpoon MIssile Launcher (fires UGM-84 Harpoon Anti-Ship Missiles)
1 x 8-cell Mk.29 Sea Sparrow Missile Launcher (fires RIM-7 Sea Sparrow Missiles)
1 x 21-cell Mk.49 Rolling Airframe Missile Launcher (fires RIM-116 Rolling Airframe Missiles)
1 x 64-cell Mk.41 (fires UGM-109 Tomahawk and RUM-139 VL-ASROC)
2 x 20mm Phalanx CIWS Block 1B
2 x Mark 32 12.75" triple fire torpedo tubes (fires Mark 46 Torpedoes)

Aircraft Carried: 2 x Stratford HF MH-60/08r Oceanhawk
Unit Run
[
]
[

]
APNS Vigilant (DD-963)
APNS Energetic (DD-964)
APNS Courageous (DD-965)
APNS Fury (DD-966)
APNS Burning (DD-967)
APNS Wrathful (DD-968)
APNS Elusive (DD-969)
APNS Unrestrainable (DD-970)
APNS Rapid (DD-971)
APNS Modest (DD-972)
APNS Indestructible (DD-973)
APNS Persistent (DD-973)
APNS Resourceful (DD-974)
APNS Inspiring (DD-975)
APNS Harsh (DD-976)
APNS Dauntless (DD-977)
APNS Ambitious (DD-978)
APNS Sharp (DD-979)
APNS Clear (DD-980)
APNS Expressive (DD-981)
APNS Circumspect (DD-982)
APNS Prompt (DD-983)
APNS Striking (DD-984)
APNS Fierce (DD-985)
APNS Virtuous (DD-986)
APNS Legendary (DD-987)
APNS Accurate (DD-988)
APNS Radiant (DD-989)
APNS Chivalrous (DD-990)
APNS Oppurtune (DD-991)
APNS Swift (DD-992)
APNS Noble (DD-993)
APNS Brilliant (DD-994)
APNS Diamond (DD-995)
APNS Crescent (DD-996)
APNS Lightning (DD-997)
APNS Active (DD-998)
Argentine People's Armada
[
]
ARA Hercules (DDG-28)
ARA Santsima Trinidad (DDG-29)
ARA Drummond (DDG-30)
ARA Guerrico (DDG-31)
ARA Granville (DDG-32)
[

]
JPS Kotetsu (DDG-15)
JPS Azuma (DDG-16)
JSP Chinen (DDG-17)
JPS Fuji (DDG-18)
JPS Yashima (DDG-19)
JPS Shikishima (DDG-20)
JPS Hatsuse (DDG-21)
JPS Asahi (DDG-22)
[

]
ARM Pico de Orizaba (DDG-121)
ARM Iztaccihuatl (DDG-122)
ARM Jocotitlan (DDG-123)
ARM Colima (DDG-124)
ARM Matlalcueitl (DDG-125)
ARM Popocatepetl (DDG-126)
[

]
BAP Castilla (DDG-75)
BAP Guise (DDG-76)
BAP Villar (DDG-77)
BAP Galvez (DDG-78)
BAP Diez Canseco (DDG-79)
BAP García y García (DDG-80)
[

]
RIS Unnamed (D22)
RIS Unnamed (D23)
RIS Unnamed (D24)
RIS Unnamed (D25)
RIS Unnamed (D26)
RIS Unnamed (D27)