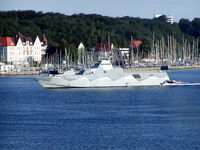 The Visby-class Stealth Corvette is the latest class of corvette to be adopted by the Royal Swedish Navy after the Göteborg and the Stockholm-class corvettes. The ship's design heavily emphasizes low visibility or stealth technology. The first ship in the class is named after Visby, the main city on the island of Gotland. The class has received widespread international attention because of its capabilities as a stealth ship.
The ships are designed by Swedish Defence Materiel Administration (FMV) and built by Kockums AB. The first ship of the class was launched in 2000 and since then the construction was fraught with repeated delays. Finally in December 2009, the first two ships of the class were delivered to the Royal Swedish Navy by the FMV.
Type: Stealth Corvette
Service Period: 2009-Present
Characteristics

Length: 238 feet 6.2 inches (72.7 meters)
Beam: 34.12 feet (10.4 meters)
Draught: 7.874 feet (2.4 meters)
Displacement: 706 tons

Crew: 43
Propulsion:

CODOG
2 x 125SII Kamewa Waterjets
4 x Vericor TF50A gas turbines, total rating 16 MW
2 x MTU Friedrichshafen 16 V 2000 N90 diesel engines, total rating 2.6 MW
3 x generators of 270kW each

Range: 2500 nautical miles (4,630 kilometers) at 15 knots (27.78 km/hr)
Speed: 35 knots (64.82 km/hr)
Sensor Suite:

Ericsson Sea_GIRAFFE AMB 3D surveillance RDF
Ceros 200 fire control RDF system
Condor CS-3701 tactical RDF surveillance system
GDC Hull-mounted ASDIC
Hydroscience Technologies towed array ASDIC system
GDC variable depth ASDIC

Electronic Warfare and Countermeasures

Rheinmetall TKWA/MASS (Multi Ammunition Softkill System)

Armament

1 x Bofors Mk.3 57mm gun
8 x Umkhonto SAMs
8 x RBS15 Anti-Ship Missiles
2 x 6-tube 127 mm ALECTO anti-submarine rocket launchers
4 x 400 mm torpedo launchers for Type 45 torpedoes
HSwMS Visby (K31)
HSwMS Östersund (K32)
HSwMS Hallstahammar (K33)
HSwMS Nyköping (K34)
HSwMS Karlstad (K35)
HSwMS Uddevalla (K36)
Community content is available under
CC-BY-SA
unless otherwise noted.