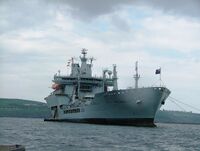 The Wave-class Fleet Oilers are a class of eleven fleet oilers in the Royal Fleet Auxiliary and the Irish Navy. The class entered service in 2003. They are 650 feet long by 92.7 feet wide and a draft of 32.7 feet (198.12m x 28.26m x 9.97m), has a displacement of 31,270 tons, and a crew of 102. The Wave-class is going to be supplemented by the Tide-class fleet replenishment oilers.
Type: Replenishment Vessel
Service Period: 2003-Present
Characteristics:

Length: 650 feet (198.12 meters)
Beam: 92.7 feet (28.26 meters)
Draft: 32.7 feet (9.97 meters)
Displacement: 31,270 tons

Crew: 102 (80 RFA and 22 RN)
Propulsion:

4 × Wartsila 12V 32E/GECLM diesel generators 25,514 metric horsepower (18.76 MW)
2 × GEC Alstom motors with Cegelec variable speed converters 19,040 metric horsepower (14 MW)
1 × shaft
1 x 18t thrust electric Kamewa bow thruster
1 x 12t thrust electric stern thruster

Range: 10,000 nautical miles (18,520 kilometers) at 15 knots (27.78 km/h)
Speed: 18 knots (33.34 km/h)
Sensor Suite:

Raytheon Type 1047 I-Band Surface Search RDF
Raytheon Type 1048 E/F Navigation RDF
Kelvin Hughes Type 1077 I-Band Navigation RDF
Type 1017 IFF

Armament:

2 × DS30B 30mm cannons
2 × 7.62mm Mk.44 Miniguns
5 × 7.62mm L7 machine guns
2 x 30mm Goalkeeper CIWS

Aircraft Carried: 1 x Agusta-Westland Merlin
Aviation Facilities: Enclosed Hangar with beartrap equipped flight deck
Cargo Capacity:

16,000 m3 of liquids (of which 3,000 m3 aviation fuel & 380 m3 fresh water)
125 tonnes of lubricating oil
500 m3 of solids
150 tonnes of fresh food in eight 20 ft refrigerated container units.
RFA Wave Knight
RFA Wave Ruler
RFA Wave Victor
RFA Wave Master
RFA Wave Rider
RFA Wave King
RFA Wave Commander
RFA Wave Emperor
RFA Wave Sovereign
RFA Wave Governor
RFA Wave Monarch
LÉ Etain (RO 01)
LÉ Mórrígan (RO 02)
LÉ Claudine (RO 03)
Community content is available under
CC-BY-SA
unless otherwise noted.