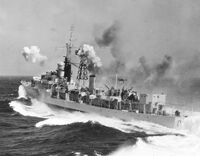 The Weapon-class was a class of destroyers built for the British Royal Navy towards the end of World War II. They were the smaller counterpart to the Battle-class (which followed them) and were the first new destroyer designs for the Royal Navy since the Second World War Emergency Programme. A total of twenty-three vessels were built for the Royal Navy.
Type: Destroyer
Service Period: 1944-1971
Characteristics:

Length: 365 feet (111.25 meters)
Beam: 38 feet (11.58 meters)
Draught: 14 feet 6 inches (4.42 meters)
Displacement: 1,980 tons (Standard); 2,825 tons (Full Load)

Crew: 234-256
Propulsion: 4 x Babcock & Wilcox boilers, 2 x Parsons geared steam turbines, 2 x shafts, 60,000 shp (45,000 kW)
Range: 5,000 nautical miles (9,260 kilometers) at 20 knots (37.04 km/h)
Speed: 31 knots (57.41 km/h)
Sensor Suite:

Type 262 STAAG fire control RDF
Type 275 fire control RDF
Type 291 air warning RDF
Type 293M target indication RDF

Armament:

4 x QF 4"/45-caliber Mk.XVI dual purpose naval guns (2x2)
10 x Bofors 40mm/60-caliber anti-aircraft guns (4x2, 2x1)
10 x 21" torpedo tubes (2x5)
2 x Squid ASW mortars
1 x Limbo Mk.10 ASW mortar
HMS Dirk (D02)
HMS Scorpion (D04)
HMS Poniard (D06)
HMS Lance (D08)
HMS Sword (D11)
HMS Dagger (D23)
HMS Celt (D27)
HMS Culverin (D28)
HMS Rapier (D33)
HMS Rifle (D41)
HMS Howitzer (D42)
HMS Battleaxe (D48)
HMS Broadsword (D49)
HMS Grenade (D53)
HMS Tomahawk (D64)
HMS Carronade (D82)
HMS Spear (D93)
HMS Claymore (D94)
HMS Crossbow (D96)
HMS Halberd (D99)
HMS Musket (D112)
HMS Cutlass (D113)
HMS Longbow (D120)
Community content is available under
CC-BY-SA
unless otherwise noted.