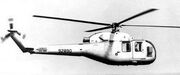 The Westland-Sikorsky WS-59 Wiltshire is a light military helicopter, designed by Igor Sikorsky for Westland Helicopters, that first flew in April, 1956. The Wiltshire normally had a four seat configuration, with one pilot and three passengers, but the most common variant which still serves in many countries has that capacity increased to fifteen. In cargo configuration the Wiltshire has an internal capacity of 220 ft³ (6.23 m³). An external load of 5,000 lb (2,268 kg) can be carried.
The Wiltshire Mk.I was the original version, first ordered by the Royal Air Force, later the British Army and several export customers, however the Army soon remarked upon it's small carrying capacity and the slow rate of production. Soon after RAF acceptance, which increased production dramatically, the issues were addressed by lengthening the fuselage, moving the doors to the rear of the helicopter and installing a slightly higher rated power plant (the Pratt & Whitney T400-CP400 turboshaft engines).
During the Midde Eastern War, the Wiltshire Mk.II served both as a troop carrier and as a gunship acting as the primary British attack helicopter until the arrival of the Westland Worcester.
Users
[
]