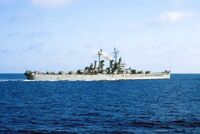 The
Worcester-class
was a class of light cruisers used by the
American People's Navy
, laid down in 1945 and commissioned in 1948-49. They and their contemporaries the
Des Moines-class heavy cruisers
were the last all-gun cruisers built for the APN.
Although technically light cruisers because they carried 6 in (152 mm) guns, they were in fact among the largest cruisers ever built, being longer and displacing more than the Baltimore-class heavy cruisers of World War II. Their main battery layout was quite distinctive in that they carried twin rather than triple turrets, unlike the previous Cleveland-class, St. Louis-class, and Brooklyn-class light cruisers. Aside from the fact that the Worcesters main battery consisted of carrying twelve 6 inch guns in six turrets, three forward and three aft, with only turrets 3 and 4 superfiring. The 6"/47-caliber Mk.16 gun was an autoloading, high-angle dual purpose gun with a high rate of fire, and the Worcester-class cruisers were thus designed to serve as AA cruisers, as well as conventional light cruisers.
All ships were decommissioned throughout the 1960s, the last conventional light cruisers to serve in the fleet, and scrapped in the early 1970s.
Specifications
Edit
Type: Light Cruiser
Service Period: 1946-1968
Characteristics:

Length: 680 feet (207.26 meters)
Beam: 71 feet (21.64 meters)
Draft: 25 feet (7.62 meters)
Displacement: 13,000 tons (Standard); 17,997 tons (Full Load)

Crew: 1,560 officers and enlisted
Propulsion: 4 x Westinghouse 620 psi boilers, 4 x geared steam turbines, 4 x shafts, 125,000 Horsepower
Range:
Speed: 33 knots (61.12 km/h)
Armament:

12 x 6"/47-caliber Mk.16 naval guns (6x2)
24 x 3"/50-caliber Mk.22 anti-aircraft guns (12x2)

Armour:

Belt: 3.5-inches (88.9 mm)
Deck: 3.5-inches (88.9 mm)
Turrets: 6.5-inches (165.1 mm)
Barbettes: 5-inches (127 mm)
Conning Tower: 4.5-inches (114.3 mm)
APNS Worcester (CL-106)
APNS Milwaukee (CL-107)
APNS Lansing (CL-108)
APNS Boulder City (CL-109)
APNS Chattanooga (CL-110)
APNS Gary (CL-111)
APNS Hot Springs (CL-112)
APNS Terra Haute (CL-113)
APNS Rapid City (CL-114)
APNS Grandview (CL-115)
APNS Edgewood (CL-116)
APNS Trenton (CL-117)
APNS Hartford (CL-118)
APNS Memphis (CL-119)
APNS Fresno (CL-120)
APNS Juneau (CL-121)
Community content is available under
CC-BY-SA
unless otherwise noted.