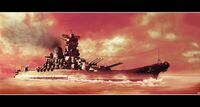 The Yamato-class battleships (大和型戦艦 Yamato-gata senkan) were battleships of the Imperial Japanese Navy (IJN) constructed and operated during World War II. Displacing 72,000 long tons (73,000 t) at full load, the vessels were the heaviest and most powerfully armed battleships ever constructed. The class carried the largest naval artillery ever fitted to a warship, nine 460-millimetre (18.1 in) naval guns, each capable of firing 2,998-pound (1,360 kg) shells over 26 miles (42 km). While five ships were planned, two battleships of the class (Yamato and Musashi) were completed, while a third (Shinano) was converted to an aircraft carrier during construction. All three ships were lost in action during the war: Shinano was sunk by the Dutch submarine HNLMS O-19 while sailing in the Gulf of Thailand; Yamato was sunk by air assault in the Battle of the Java Sea; and Musashi was destroyed by a torpedo salvo from the heavy cruiser HMAS Australia during the Battle of the South China Sea.
Type: Battleship
Service Period: 1941-1944
Characteristics:

Length (Overall): 862 feet 10 inches (262.99 meters)
Length (Waterline): 839 feet 11 inches (256.01 meters)
Beam: 127 feet 7 inches (38.89 meters)
Draught: 34 feet 1 inch (10.39 meters)
Displacement: 69,988 tons (Standard), 72,000 tons (Full Load).

Crew: 2,767
Propulsion: 12 x Kanpon boilers, 4 x steam turbines, 4 x 3-bladed propellers, 150,000 shp (112 MW)
Range: 7,200 nautical miles (13,334 kilometers) at 16 knots (29.63 km/h)
Speed: 27 knots (50 km/h)
Sensor Suite:

Type 13 Air Search RDF
Type 22 Mod 4 Surface Search/Fire Control RDF

Armament:

9 x 46cm/45-caliber Type 94 naval guns (3×3)
12 × 15.5cm/60-caliber 3rd Year Type naval guns (4×3)
12 × 12.7cm/40-caliber Type 89 dual purpose naval guns (6×2)
24 × 25mm/60-caliber Type 96 Model 1 Anti-aircraft guns (8×3)
4 × 13.2mm/76-caliber Type 93 anti-aircraft machine guns (2×2)

Armour:

Belt: 16.1 inches (408.94 mm)
Deck: 9.1 inches (231.14 mm)
Bulkheads: 14.1 inches (358.14 mm)
Turret Face: 25.6 inches (650.24 mm)
Shinano - Torpedoed by HNLMS O-19, Gulf of Thailand, 11 September 1942
No.111 - cancelled
Community content is available under
CC-BY-SA
unless otherwise noted.