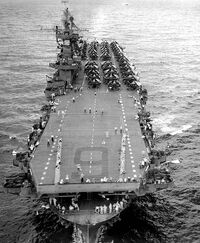 The Yorktown-class was a class of four aircraft carriers built by the UAPR and completed shortly before World War II. They immediately followed the Ranger, the first U.S. aircraft carrier built as such, and benefited in design from experience with the Ranger and the earlier Lexington-class. The were succeeded by the People's Republic-class aircraft carriers.
The Illustrious-class of the Royal Navy and the Hiyo-class of the Imperial Japanese Navy are both based on the Yorktown-class design.
Type: Aircraft Carrier
Service Period: 1937-194X
Characteristics:

Length (Overall): 827 feet 5 inches (252.2 meters)
Length (Waterline): 776 feet (236.52 meters)
Beam (Extreme): 114 feet 5 inches (34.87 meters)
Beam (Waterline): 95 feet 5 inches (29.08 meters)
Draft: 26 feet (7.93 meters); 24 feet 4 inches (7.42 meters) design draft
Displacement: 19,800 tons (Standard); 25,500 tons (Full Load)

Crew: 2,217
Propulusion: 9 boilers, 120,000 shp (89 MW)
Range: 12,500 nautical miles (23,150 kilometers; 14,384.74 miles)
Speed: 32.5 knots (60.19 km/h)
Sensor Suite:
Armament:

8 × 5"/38-caliber Mk.12 dual purpose naval guns (4×2)
54 × Bofors 40mm/56-caliber Mk.1/2/M1 anti-aircraft guns (5x2, 11x4)
32 × Oerlikon 20mm/70-caliber Mk.2/3/4 anti-aircraft cannons (16x2)

Armour:

Belt: 4.8-inches (121.92 mm)
Hangar Deck: 1.5-inches (38.1 mm)
Bulkheads: 4-inches (101.6 mm)
Conning Tower: 4-inches (101.6 mm)

Aircraft Carried: 90 aircraft
Aviation Facilities: 3 x elevators, 2 x flight deck hydraulic catapults, 1 x hangar deck hydraulic catapult
Community content is available under
CC-BY-SA
unless otherwise noted.