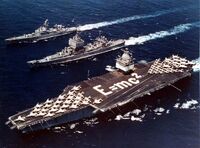 The Yorktown-class aircraft carriers are the first nuclear powered supercarriers of the American People's Navy. They were ordered in 1961 in response to the British Illustrious-class CVNs. The Yorktown-class entered service in 1966. The last member of the class, Ranger was decommissioned in March 2014 after a little over 44 years of service.
The Yorktown-class is comparable in size and capabilities to the nuclear powered version of the USS John F. Kennedy (CVN-67).
Type: Nuclear powered supercarrier
Service Period: 1966-2014
Characteristics:

Length (Overall): 1,052 feet (320.65 meters)
Length (Waterline): 990 feet (301.75 meters)
Beam Extreme): 252 feet (76.81 meters)
Beam (Waterline): 130 feet (39.62 meters)
Height: 192 feet (58.52 meters)
Draft: 37 feet (11.28 meters)
Displacement: 63,155 tons (Light); 88,750 tons (Full Load)

Crew: 5,500
Propulsion: 4 x A3W nuclear reactors, 4 x shafts, 288,000 shp (216 MW)
Range: Unlimited
Speed: 34 knots (62.97 km/h)
Sensor Suite:

AN/SPS-48E 3D Air Search Radar
AN/SPS-49 2D Air Search Radar
AN/SPQ-9 Fire Control Radar
AN/SPN-41 Landing Aid Radar
AN/SPN-43C Air Traffic Control Radar
AN/SPN-46 Air Traffic Control Radar

Countermeasures:

AN/SLQ-25C Nixie
AN/SLQ-32(V)4 Electronic Warfare Suite
Mk.36 SBROC

Armament:

4 x Mk.25 missile launchers (replaced by Mk.29 launchers)
4 x 20mm Phalanx CIWS

Aircraft Carried: 90-100
Aviation Facilities: 4 x steam catapults
APNS Yorktown (CVN-65)
APNS Intrepid (CVN-66)
APNS Ranger (CVN-67)
Community content is available under
CC-BY-SA
unless otherwise noted.